Aunt Ione's Bloody Mary Mix (Canning)
Paula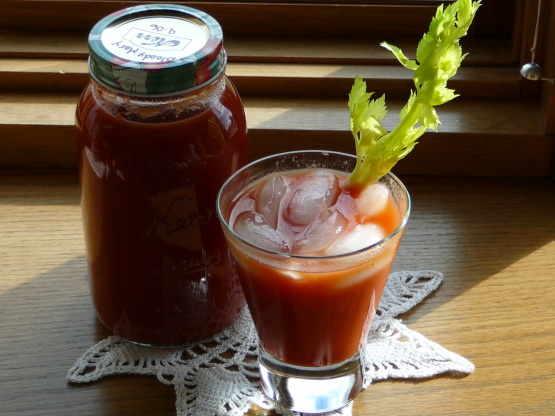 This is an old family recipe. Great when you have lots of tomatoes to can! Very yummy with or without alcohol!

I made this last year and we ran out quickly. Now that the tomatos are on, my DH requested this one specifically. It was great and my only regret is that I didn't can more of it last year. I won't make that mistake again :) ... My 30 medium tomatos worked out to be about 24 cups of quartered tomatoes. This year I'll be running this through my vitamix to smooth everything out easily. Thanks for this recipe!
Cook tomatoes, celery, carrots, onion, green peppers, garlic, bay leaf, and parsley in a large pot until mushy, approximately 30-45 minutes.
Remove the bay leaf.
Working in batches, place the vegetable mixture into a blender and puree.
Using a spatula, press each pureed batch through a fine sieve to remove any extra seeds.
Place back in a large pot and add the sugar, lemon juice, worcestershire sauce, salt, and tobasco (1/2 T. tobasco is very mild, so you may wish to add more now or add when mixing your drink).
Heat this to a boil.
Pour into clean quart jars and add prepared lids.
Process in a boiling water canner for 40 minutes.