Asparagus and Parmesan Cream Pastry
Sara 76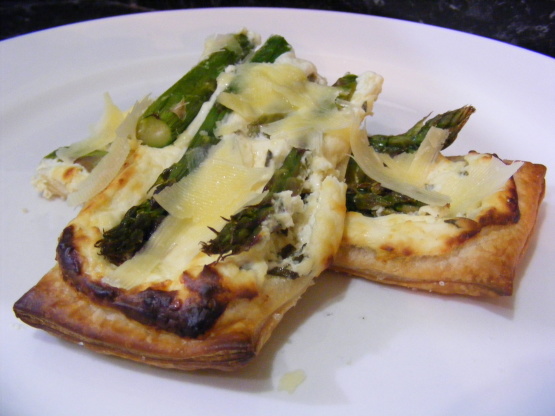 This recipe was a side dish winner in the Real Women of Philadelphia 2010. After trying it, I know why. It is delicious.

Ok, this was surprisingly yummy! But the recipe doesn't actually say what to do with the asparagus. I think there's a step missing. I diced it up in 1 inch pieces and mixed it in with the cream cheese mixture. Even my little girl liked it!
Preheat oven to 400 degrees F; remove pastry dough from freezer and let thaw for 10 minutes.
While dough is thawing, wash and trim asparagus so it is 1 1/2 inches shorter than width of pastry sheet.
In medium bowl, combine cream cheese, grated Parmesan, chopped basil leaves and lemon juice; set aside.
Unfold dough onto a baking sheet sprayed with cooking spray; cut into 4 equal rectangles.
Separate slightly; spread cream cheese mixture onto each of the pastry rectangles, alternating directions, not quite to each edge.
Press four asparagus spears onto each rectangle, alternating direction.
Sprinkle pastries with sea salt and drizzle with olive oil.
Bake for 18-22 minutes until pastries are golden brown.
Remove from oven, cut each pastry in half and transfer to serving platter.
Garnish with a sprinkle of shave parmesan cheese and serve.