Asparagus and Goat Cheese Quesadillas
dicentra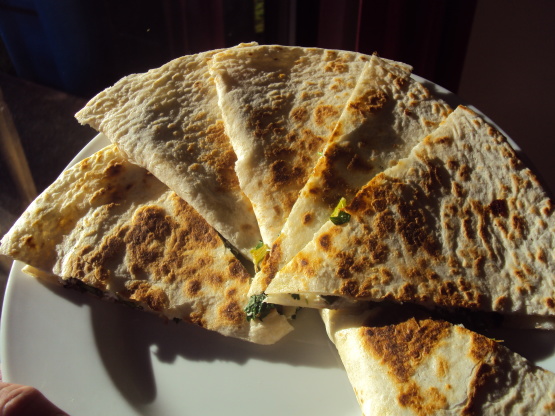 From All Recipes. This one is for me! I never would have thought of putting cilantro with goat cheese. I made this when I happened to have all of the ingredients on hand. Quick dinner with some fruit. I used plain goat cheese, but the herbed kind would have been even better. Yum!

These are super easy, tasty and fairly healthy! Everything I love in a recipe! I might add mushrooms next time for some extra flavor. Thank you!
Heat 1 tablespoon olive oil in a skillet over medium-low heat, and cook the asparagus, stirring occasionally, until tender and lightly browned. Season with salt and pepper, and remove from heat.
Spread one side of each tortilla with 1/2 the goat cheese. Place 1/2 the asparagus and 1/2 the cilantro on each tortilla, and fold tortillas in half over contents to form quesadillas.
Brush the outsides of the quesadillas with remaining oil.
Place the quesadillas in a skillet over medium-low heat, and cook 3 minutes on each side, or until lightly browned. Cut in half and garnish with cilantro to serve.