Asian Marinated Pork Chops
WiGal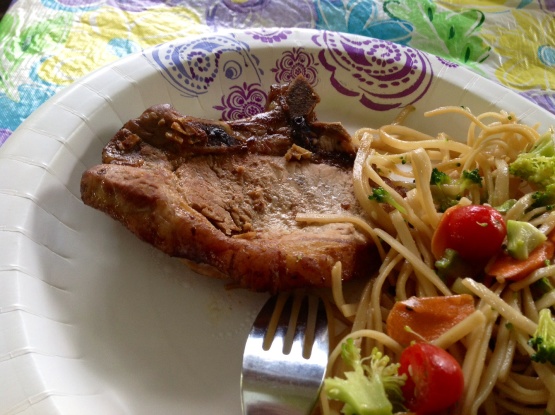 A recipe I found on-line at Mr.food.com for easy Chinese recipes. Here is what is stated about the recipe: "These Asian Marinated Pork Chops will melt in your mouth, and each bite is packed with great taste!" Sounds delicious and was highly rated so I decided to post for the CQ 2014, China region.

Top Review by WiGal
A very nice marinade! Because we were going camping to remote Porkies in Michigan, I made marinade at home and chilled in RV fridge. Did not have pan for cooktop so baked for 40 minutes (on foil pie plate) at 350. Also did not make sauce due to no pan. Started to marinate before leaving for hiking Summit Peak trail so probably marinated too long but it still was good. Served with recipe#137204 with lauralie41. Thank you diner524 for posting. Made for Culinary Quest 2014 for Cruising Culinary Queens.
n a small bowl, combine soy sauce, lemon juice, ginger, and garlic; mix well.
Place chops in a 9- x 13-inch baking dish and pour soy sauce mixture over top, turning chops to coat thoroughly. Cover and chill 2 hours, turning after 1 hour. Remove chops from marinade and discard marinade.
In a large skillet over medium heat, melt butter; cook chops 5 to 7 minutes per side, or until cooked through. Serve immediately.
Note: If you prefer to not use butter to cook the pork chops, you can substitute either peanut oil or light sesame oil.
To make a sauce for the pork chops, reseve the marinade and bring it to a boil. Simmer 2 to 3 minutes, the pour over the chops.