lazyme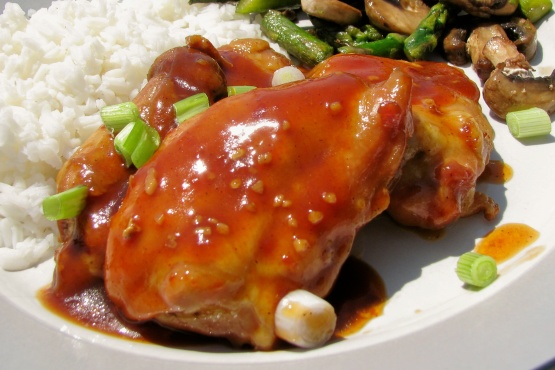 We love these chicken thighs! Adapted from Taste of Home.

OMG!!!!! Made these for dinner tonight. They are so good. I just had to add about a 1/2 cup of water before the end. I wanted to make sure there was enough sauce for the rice.Will be making these again. Thanks for a great recepie.
In a skillet, brown chicken over medium heat in oil for 18-20 minutes or until juices run clear.
Combine the next nine ingredients (from warm water to five-spice powder).
Stir until sugar is dissolved.
Pour over the chicken and bring to a boil.
Reduce heat, simmer, uncovered, for 30-35 minutes or until chicken is tender, turning occasionally.
Combine cornstarch and cold water until smooth and gradually stir into skillet.
Bring to a boil, cook and stir for 2 minutes or until thickened.
Serve with rice if desired.
Garnish with green onions.