Satyne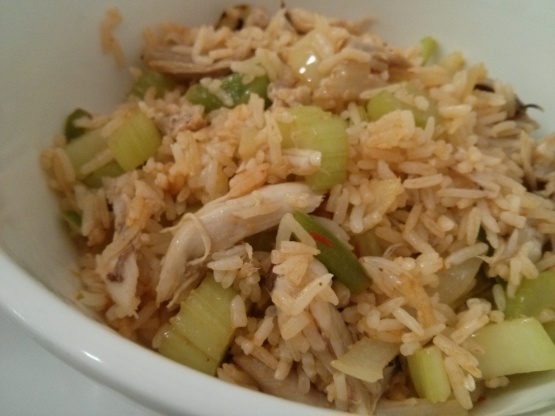 An easy, simple way to fix rice from the Caribbean island of Aruba! Great served with a lettuce and tomato salad.

When I chose this recipe I thought it sounded really good, but while I was cooking it I had second thoughts. The second thoughts were wrong - this is great and has lots of flavor. I did reduce the amount of rice to half as there are only three of us. I also used boneless skinless chicken thighs as I had a couple in the freezer that needed to be used. Will be making this again. Thanks for posting this Sharon! Made for 1~2~3 Hits.
Bring the rice to a boil, using water and chicken broth, turn down heat and simmer for 15-20 minutes, until done and liquid absorbed.
Put the chicken leg in a saucepan, cover with water, and bring to boil with salt and pepper for 15 minutes.
Once chicken and rice are ready, shred the chicken from the bone.
Fry the onion, green pepper, celery and tomato in the olive oil until it's golden brown, about 10 minutes.
Add the shredded chicken and the cooked rice to the vegetables and mix thoroughly. Serve and enjoy!