Derf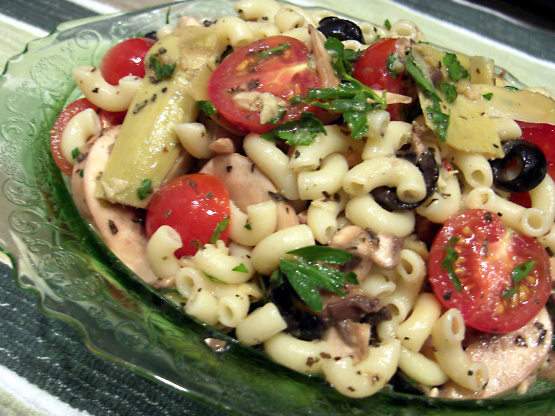 This pasta salad is quick and easy to make. The liquid from the marinated artichoke hearts makes an excellent dressing. Cook time is for chilling.
Simple & yummy! I did add some crumbled feta cheese. Went well with grilled lamb chops! TY for sharing! A keeper.
Bring a large pot of salted water to boil; add pasta and boil until al dente.
Drain well and rinse with cold water.
In a large mixing bowl, combine pasta, artichoke hearts, mushrooms, tomatoes, olives, parsley, basil, oregano, garlic, salt and pepper; toss well.
Refrigerate for at least 4 hours.
Before serving, season the pasta dish with salt and pepper to taste.