BarbryT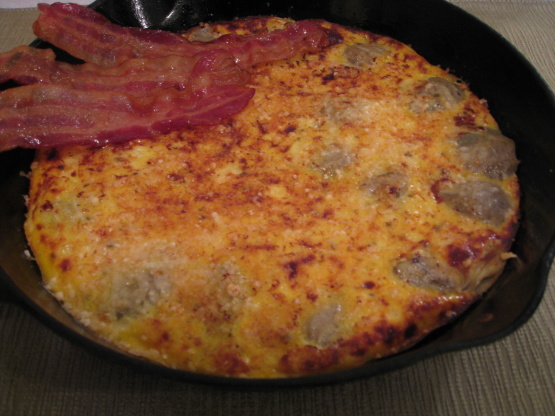 From Dom DeLuise. You could also make this with asparagus, broccoli, or other vegetables.

Top Review by awalde
This was a delicious frittata, I love artichokes and the cheese(s) addition in it. I appreciate the cooking in the oven as in this way I did not have to turn it and may be break it. The delicious aroma from the herbs addition made this "simply" dish realy special.<br/>Made for Culinary Quest 2014.
Following directions on package, cook artichoke hearts until tender.
Cut in half and set aside.
Preheat broiler.
In medium-sized iron skillet, saute the garlic and onion in 2 tablespoons of olive oil until golden brown.
In a large mixing bowl, combine eggs, milk, oregano, pepper, mozzarella and half the Parmesan.
Add cooked garlic and onion mixture and mix well.
In same skillet, heat remaining olive oil and arrange the artichoke hearts evenly, cut side down.
Add egg mixture.
Reduce heat.
Shake pan, cover and cook slowly for 10-15 minutes.
Sprinkle top with remaining grated cheese.
Place pan under broiler until puffed and golden brown.
Shake pan to loosen frittata, and slip it onto a serving dish.
Garnish with fresh basil leaves.