Parsley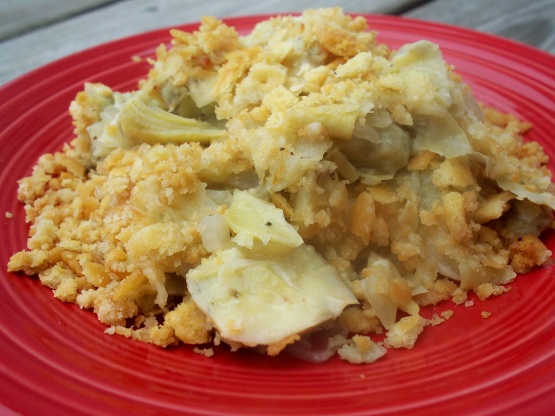 This is a nice and different side dish. Great for holiday dinners. It uses the canned water-packed artichoke hearts, NOT the marinated ones.
Preheat oven to 350. Lightly grease a 9" casserole dish; set aside.
Drain the artichoke hearts and coarsely chop; set them aside.
In a skillet, melt the 3 tbsp butter and sautee the onion and garlic until the onion is translucent.
Add the artichoke hearts/ lemon juice and the pepper. stir to mix well. Pour into the prepared casserole dish.
Evenly sprinkle with both cheese.
In a small bowl, mix together the cracker crumbs and the 3 tbsp melted butter; toss well.
Sprinkle the buttered cracker crumbs over the casserole.
Bake at 350 for about 30-35 minutes.