Apricot-Jalapeno Glazed Carrots
Debbwl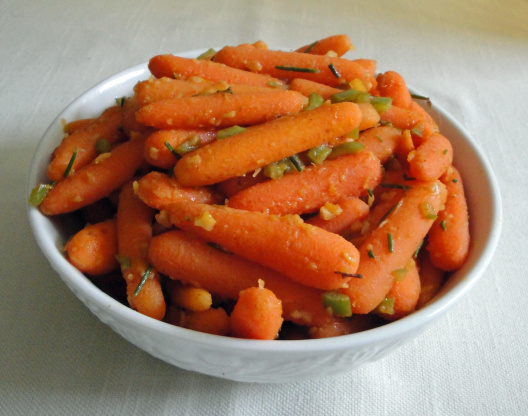 We love glazed carrots, so I threw this together for dinner tonight to serve with a brown sugar baked salmon filet. A slightly different glazed carrot.

Really tasty dish! I wasn't too sure about adding the jalapeno pepper, but decided to use my "sugared" jalapeno peppers (recipe no. 364662) that I keep on hand at all times. I think it was a much better choice than using fresh jalapeno peppers since they compliment the other sweet ingredients. Thanks for the post! Made for Everyday is a Holiday tag, November, 2011.
Steam carrots in a tightly covered dish with a couple of tablespoons of water for 2 minutes until almost done. (Depending on your microwave and the size of your carrots, this may take longer. My carrots were very thin.).
Melt butter over med-high heat in a small skillet. Add partially cooked carrots and fry in butter until starting to brown a tiny bit. Reduce heat to medium and add garlic, jalapeno, and rosemary and saute 1 minute until fragrant.
Add preserves, brown sugar and mustard. Continue stirring until preserves are melted and carrots are glazed. Add lemon juice and salt and pepper to taste.