Malu8033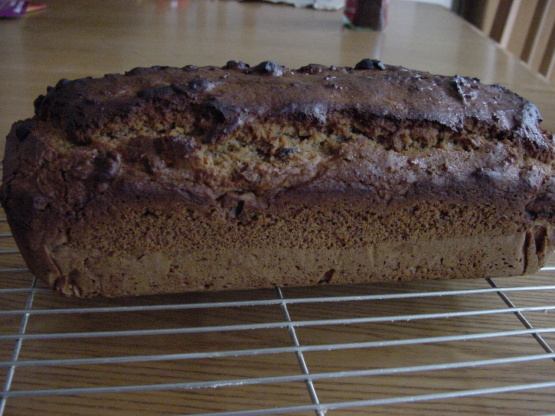 This is a delicious flavorful quick-bread that was one of the first things I made when I started baking. Yummy! (Note: I made it without the nuts and it came out just fine).

Great "fall" recipe. I used raisins because it was what I had onhand. I prepared this for Fall PAC '08 but will be making it again many times.
Preheat oven to 350°F Line the bottom and sides of a 9"x5" loaf pan with waxed paper and grease.
Break the egg into a bowl and beat lightly. Stir in the apple sauce, butter or margarine, brown sugar and granulated sugar.
In another bowl, sift together the flour, baking powder, baking soda, salt, cinnamon and nutmeg. Fold the dry ingredients into the applesauce mixture in three batches.
Stir in the currants or raisins and chopped pecans.
Pour into the prepared pan and bake for about 1 hour, or until a toothpick inserted near the center comes out clean. Let stand for 10 minutes before transferring to a wire rack to cool. (Note: in my oven, it took only about 45 minutes to finish).