Applesauce Raisin Bran Muffins
Kafffy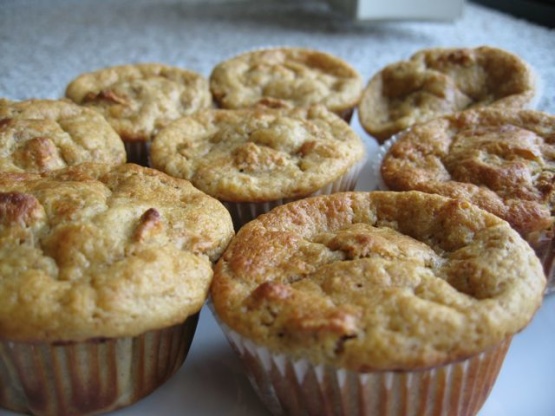 I checked and while I found many bran muffin recipes here, none were quite like this. I like this one not only because it is lower fat, but because it doesn't have as much added sugar, and it relies on the cereal more than the flour to make the batter. The muffins themselves are surprisingly moist and light in texture. I like the light sweetness of these and the crunchy muffin tops. (If you sprinkle a little extra cereal on top, they get an even better crunch, and improved appearance.) I found this recipe at www.mealsmatter.org. Watch these since the recipe stated they should bake in 20 minutes, but I found mine were done after about 15.

Quick and easy to make, can adjust the ingredients to what you have in the pantry with delicious results. Great for on the go breakfast! Often requested by my husband.
Preheat over to 400F; prepare a muffin tin with paper liners or by spraying with cooking spray.
Mix flour, baking powder, salt, cereal and milk in large bowl; let stand 3 minutes.
Stir in egg, applesauce, sugar and butter; stir just until moistened (batter will be lumpy).
Fill each muffin cup 2/3 full.
Bake at 400F for 20 minutes or until golden brown, and they test done with a toothpick.