Applesauce Oatmeal Cookies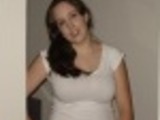 I got this from a friend, they sound delish!
Make and share this Applesauce Oatmeal Cookies recipe from Food.com.
Directions
Cream sugar and shortening.
Add eggs. Add baking soda to applesauce and then add to mixture.
Sift flour and spices together. A.
dd to mix. mix well.
Add oatmeal, nuts, chips, and raisins.
Stir gently until moistened. Drop by spoonfuls onto greased cookie sheet.
Bake for ten minutes at 325 degrees.