I'mPat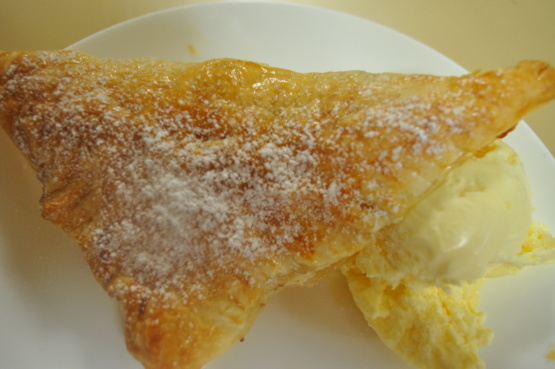 I saw this being made on sunrise television programme and just had to try it. These are so easy, and make a very nice dessert. I used fresh apples and they turned out fantastic. I dusted the tops with some cing sugar and served with cream, the family loved them.

Top Review by I'mPat
I used my own apple filling recipe (for dietary needs) but I had a lot of problems with my puff pastry (just wouldn't seal properly and well stretchy and gluey) and I found 1 1/2 tablespoons of apple mixture was definately enough and in all the kerfuffle I forgot to put in the jam (which I was only going to do with half of them) but served with vanilla icecream and cream (cream for 3 not me) and a dusting of icing sugar and it was good eating. After I attempted to make the first 2 with troubles I put my apple mix in the fridge a totally cooled it to cold (the mix was still just warm with the first 2 which I think contributed to the problem - SO RECOMMEND A COLD APPLE MIX). Thank you Tisme, made for Make My Recipe - Edition 10.
Place apples in a bowl with sugar and cinnamon. Mix well.
Cut pastry sheets into quarters.
Spoon 2 tablespoons of the apple mixture and 1 teaspoon jam onto one half of each pastry square.
Brush each square with a little of the egg around edge of pastry.
Fold over pastry to enclose filling, then pinch and fold edges to seal.
Place turnovers on oven trays lined with baking paper.
Brush tops with remaining egg.
Cook in a hot oven (200C) for 20 minutes, or until pastry is golden brown.
Sprinkle with some sifted icing sugar if desired.
The turnovers are best served warm.