Kathy228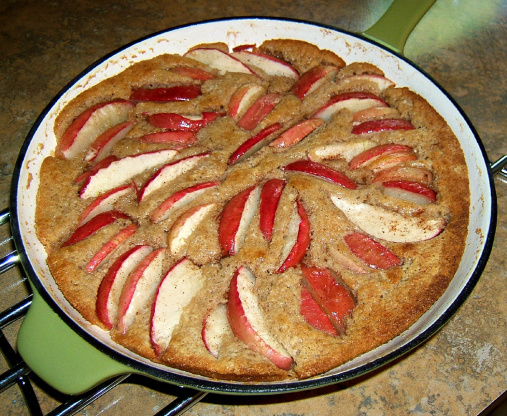 This is a yummy recipe I got from a cookbook I got with my Marlboro points years ago. Who'd have imagined smoking could lead to something this good? I like using my cast iron skillet for this, although I get the occasional sticky spot. You can substitute butter or something healthier for the drippings, but I feel that if you love your food you should be willing to die for it.

Very easy and tastes great! The cake part is a little thin but that doesn't effect the taste at all. And it's not too sweet. I put 1/2 tsp ground cardamom in the batter. I gave it 4-stars instead of five because I would have preferred it with peeled apples. I'll peel them next time and compare. Nice recipe.
In a medium bowl mix 1/2 cup sugar, flour, cinnamon, baking powder, salt and cloves.
In another bowl, combine apples and lemon juice. Add remaining sugar.
Melt drippings in a 9-10" oven proof skillet (I use a cast iron one.).
Add egg and coffee or milk to flour mix and mix well.
Pour batter into skillet over the melted drippings. DO NOT MIX IT. Arrange the apple mix atop the batter.
Bake at 350 inthe oven for 45 minutes until the batter is poofy and set and the apples are tender. Let cool for 20 minutes, then serve.