Pixie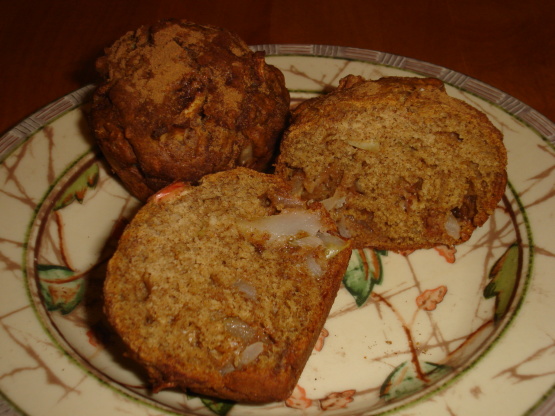 Delicious apple cinnamon muffins, and pretty healthy too!

Top Review by Pixie
Yummy muffins. I was attracted to this recipe because it was lighter in fat and sugar than most of the other recipes I looked at. I used more apple than suggested since I was trying to use up some apples that were too tart. I also added a bit of splenda to the apples since they were so tart and a bit extra cinnamon just because. I gave the top a small sprinkle of cinnamon sugar before baking. Very nice recipe, thanks for posting.
In large bowl, combine flour, sugar, baking powder, baking soda, cinnamon, and salt.
Combine apple, egg, milk and butter; add to dry ingredients, stirring just until combined but not overmixed.
Spoon into lightly greased or paper-lined muffin cups, filling almost to top. Bake in 400F oven for 15 to 18 minutes or until golden and tops firm to the touch.