Apple 'n' Oats Breakfast Pudding
PaulaG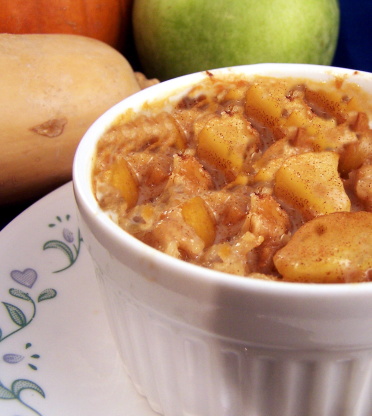 This is a delicious way to start the day. This is a low GI recipe so great for those trying to eat healthy or for diabetics. I love to use braeburn apples but you can use any baking apple you like.

Excellent baked oatmeal ~ there are only three of us and we licked the dish clean. Nice easy breakfast and I would serve it to guests in a flash! Made for Healthy Choices 2013 Tag.
Preheat oven to 350. Lightly coat a 1 quart baking dish with oil spray.
Combine the milk, sugar, margarine or butter, cinnamon, and salt in a 2 quart saucepan. Cook, stirring constantly, over high heat for 4 minutes to scald the milk.
Add the apple and the oats. Continue cooking on high for 1 minuted. Remove from heat and stir in the vanilla.
Pour the mixture into the prepared baking dish. Bake for 15 minutes.
Remove from the oven, stir thoroughly. Sprinkle the top with nutmeg. Return to the oven and bake for 15 more minutes.
Serve warm with cream, if desired.