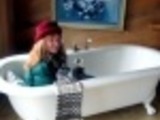 This is the most popular cake thats sold here at Apple Hill during harvest time.You can omit the walnuts if you wish or you can add raisins or dried cranberries.
Directions
Combine sugar,oil,and eggs in a large bowl, stirring until well mixed.
Stir in diced apples and nuts.
Sift together flour, baking soda, nutmeg,cinnamon and salt, then add to bowl.
Stir all ingredients together to form a batter (do not overmix).
Pour into 9x13 inch greased pan.
Bake one hour in a 350 degree oven.
Reviews
Most Helpful
This cake had really great flavor and was super easy to put together. The only thing I would advise is not to put it in a bundt pan. It completely collapsed, but that didn't stop us from eating it with our fingers.

I visited Apple Hill last month and brought home several different types of apples. I found this recipe on the back of a plastic bag holding 5 LBS of Braeburn apples. I made this yesterday for a Baptism celebration at a friends house. Everyone loved this delicious cake. I was hearing a lot of mmm's and yums! I made a few changes to the recipe . I used a half cup of white sugar and a half cup of brown sugar. I also sifted my flour. I used a variety of braeburns, Fuji's and a variety that they sell at Apple Hill called Arkansas Black which is a crisp sweet and tart apple delish! I think by using the brown sugar it gave this cake a sticky gooey texture. Next time I will use all white sugar to compare. I made my cake in 2 round pans but I will use one round pan next time. I also made a Maple glaze that I drizzled in the middle of the cake. This recipe is so simple with outstanding results. Thanks for posting the recipe.

This is a family favorite! I make it every year we visit Apple Hill. I like to use a mix of Romes, Fujis, and Galas. I also go with 1 cup white sugar, 1 cup brown sugar. This cake's so good, my vegan daughter will cheat for a taste.