Apple-Cinnamon Overnight Oatmeal
Alifay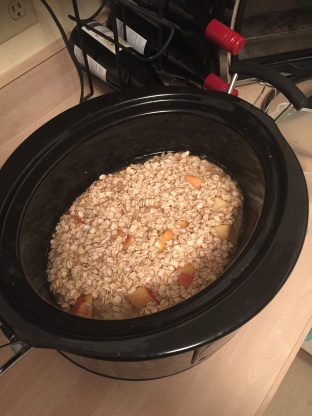 Easy, Easy, Easy...T hat's what this is. Put ingredients in crock pot the night before. Upon serving, add more brown sugar to taste.

I made this for DH and DD as I do not eat oatmeal. They were very happy with it. DH said it was many times better than the instant stuff out of the packages. They both added more brown sugar. This smelled so good that I even tried a bite. Nope, still don't like oatmeal. I didn't add more brown sugar to mine, I will try it next time. I think this could be the recipe to convert me. I did like that it was creamy and not lumpy like normal oatmeal. I cut back on the water after reading other reviews. I used 3 1/2 cups. This is a very easy recipe. I loved that it ready for my DH to take to work and an hour later was ready for DD, saving my time in the AM. My DH even asked how to make it and he doesn't cook. If he thinks he can do it anyone can. Thank you for a easy, time saving recipe that my family liked and looks forward to having again.
Mix together the apples, cinnamon and brown sugar in bottom of crock pot.
Sprinkle oats over apples, then pour in water and salt; DO NOT STIR!
Cook on LOW for 8-9 hours.