ImPat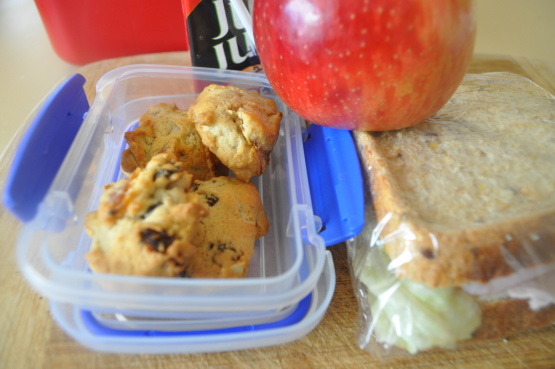 These biscuits are baked for Anzac Day (April 25), a memorial tribute to the soldiers killed in World War I. Anzac is an acronym for the combined Australia and New Zealand Army Corps. Although called a biscuit in Australia and New Zealand, they are actually what Americans would call a cookie. From Better Home and Gardens. Posted for ZWT5.

Top Review by ImPat
This is the first time I have made Anzac biscuits that have not had oats or golden syrup or honey in them but they certainly have a lovely sweet taste from the fruit (I used sultanas and apricots and the almonds) and the hint of spices gave it lovely flavour. I made a half batch and got 29 delightfully small 2 bite size biscuits/cookies which I think would be ideal for a small child's lunch box or nestled in a saucer with a cup of tea or coffee. thank you Breezermom, made for Summer Photo Tag.
Heat oven to 375 degrees.
Stir together the flour, baking powder, baking soda, salt, cinnamon, nutmeg and allspice.
In a mixer bowl beat butter on medium speed of an electric mixer for 30 seconds. Add sugar and beat until fluffy.
Add egg and milk; beat well.
Add dry ingredients to beaten mixture and beat till well combined.
Stir in raisins, nuts, and candied cherries.
Drop dough from a rounded teaspoon 2 inches apart onto a greased cookie sheet. Bake in a 375 degree oven for 8 to 10 minutes or till done. Cool on a wire rack.