Another Chicken Fajitas Recipe!
ChefLee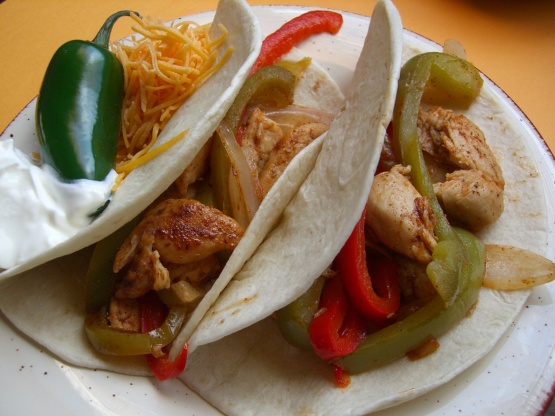 Taken from Videojug.com. Looked great there, being prepared. Hope to make this very soon.

Made this for Spring PAC 2014 and I'm so glad I did....delicious. I used corn tortillas (for DH) and followed the instructions. Definately a keeper. I used red, green and orange peppers along with the onions and garlic. Served with recipe#512668#512668, recipe#344392#344392, homemade salsa and Spanish rice. We had a great dinner. Thank you for posting.
Prep the Veggies: De-seed the peppers. Thinly slice the peppers and onions and set aside on a plate.
Prep the Chicken: Slice the chicken on the diagonal into 3 cm strips.
Make the Marinade: Grate the rind of one of the limes into a bowl then squeeze the juice of both limes. Into this, add the sugar, cayenne, oregano and cinnamon and season with salt and pepper. Mix together well.
Marinate the Chicken: Add the chicken strips to the marinade and toss until pieces are well coated. Let marinate for 30 minutes or longer.
Cook the Chicken: Heat the oil in a pan or griddle over high heat until smoking hot. Add the chicken and the marinade and cook until tender (approximately 4-5 minutes).
Add the Vegetables: Stir in peppers and onions and cook until soft - about 3 minutes. Adjust seasonings, if needed.
Garnish with parsley and serve the Mexican way: place chicken mixture into warm flour-y tortillas and top with guacamole, sour cream and tomato salsa. Roll it up and enjoy!