Anna's Sweet N' Sticky Cinnamon Buns
AngiR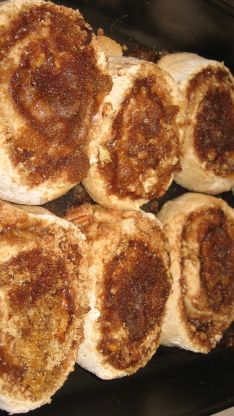 These cinnamon buns are really yummy! These were originally from a different recipe, but I tweaked it to our tastes.You could use brown sugar or granulated sugar in this recipe. Don't have buttermilk? Combine even parts plain yogurt and milk to replace it. If you don't want to use all applesauce in the recipe, combine equal parts of applesauce and oil. Add as much cinnamon as desired- I like to use alot in these buns. Feel free to play with the recipe to suit your tastes! Note: This recipe is doubled- these buns are sure to go really fast!
Preheat oven to 400°F.
Sift together dry ingredients in a large bowl. Combine buttermilk and vanilla. Mix together applesauce and buttermilk with dry ingredients- stir until just combined.
Knead dough on a floured surface until smooth. Divide dough into two equal halves. Roll each half into a 15x8" rectangle. Smooth half of the butter on rectangle. Sprinkle a small amount of cinnamon on top of butter.
Combine sugar, walnuts, and cinnamon in a small bowl. Sprinkle half of mixture over top of dough. Roll up dough in a jelly roll fashion. Pinch seam to seal. Cut roll into 1 1/2" slices. Arrange slices, cut side up in a large, greased baking pan. Repeat all steps with other half of dough.
If desired, melt a small amount of butter and pour over top of buns. Sprinkle any remaining sugar mixture on top. Bake for 15 minutes or until golden brown. Remove from oven and pour milk over top of buns, if desired. Serve warm.