Brenda.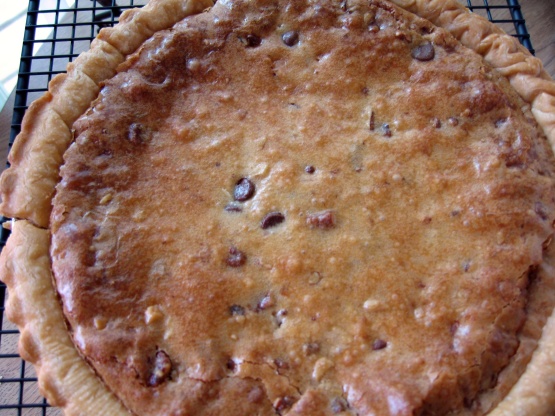 This is Z-Tejas' recipe and it's wonderful served with a scoop of ice cream or whipped cream.

Gave as gifts for the holidays and ate one out of the pan on the couch with whip cream! Delish!
Preheat over to 350 degrees.
Melt butter and allow to cool to room temperature.
In a medium mixing bowl, beat eggs until well blended.
Add flour and sugars, mix until smooth.
Add cooled butter and mix well.
Fold in nuts, chocolate chips and ground ancho chili pepper.
Pour mixture into prepared pie crust.
Bake 30 to 40 minutes until pie tests done.
Serve warm, topped with fresh whipped cream.
Note: Ancho peppers are available whole. To grind, soften peppers in water for 30 minutes, Drain and grind in a blender. DO NOT SUBSTITUTE CHILI POWDER. Update . . . found ground ancho chilis at Penseys.