American Traditional Pumpkin Pie
Prep 1 hr
Cook 1 hr 50 mins
Directions
Preheat oven to 450 degrees.
In a large non-metal bowl combine sugars and eggs.
Add in the pumpkin mush, the spices, salt, and evaporated milk.
Pour the filling into the pie shell.
Bake for 10 minutes, and then reduce heat to 350 and bake for another 50 minutes, or until pie sets.
--------Pumpkinmush-----------.
cut pumpkin in half.
Prick the skin several times with a fork, and place on a cookie sheet, cut-side up.
Bake for 50 minutes or until very soft when poked with a fork.
Let the pumpkin cool, then scoop out the seeds with a spoon.
Scoop out the pumpkin meat, and throw away the skin.
Mash the pumpkin meat with a potato masher or puree in a blender/food processor.
Makes about 4 cups.
Most Helpful
Wow! This pie was great. )And yes, I agree with Steph (reviewer), this did make 2 regular pies for me too. I couldn't find my ginger so I made it without and was still delicous! I guess it's a fool proof pie, (to an extent). We loved this pie!

It was great! For my first time, But I learned better when cold then hot. it brings out the sweetness. THANK YOU SO MUCH!!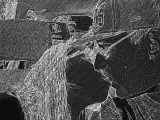 This pie came out great! I didn't use cloves (didn't have any!) or nutmeg (mother-in-law doesn't like it) and it still came out really good. I will definitely keep this recipe!