Amber's Down Home Peach Iced Tea
Annacia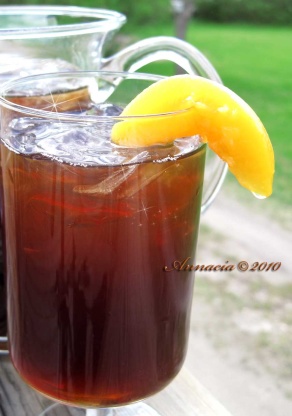 A yummy classic! Sweet Peach Iced Tea! This tasty, cool, refreshing treat is sure to quench any thirst! Filled with a fresh peach taste, that will remind of you a lazy summer day, long after summers' past! To Serve: Dip the rim of a tall ice tea glass with peach syrup, then dip in granulated sugar! Top it off with a peach slice affixed to the rim, and some ice cubes and Enjoy!

Mmmmmm, summer and sweet tea. This has a perfect amount of sweetening and the peachiness (is that a word?) is great. It just makes you want to take that iced pitcher and move out to the porch and put your feet up with a good book. Simple to make and made with things I always have on hand. Pure pleasure.
8 -12

black tea bags, non flavored, tags removed if any

1

(15 ounce) can yellow cling peaches, reserve syrup

1

cup sugar, can substitute artificial sweetener
2 1⁄3 quarts water
In a 3qt stock pot, combine the tea bags, water and sugar.
Brew on med-low heat.
Open the canned peaches, and drain the syrup into the pot.
Drop in 3-5 peach slices.
Reserve the rest of the peaches on the side.
Brew the tea to just under a boil.
Remove from heat.
Strain off the tea bags, but leave the peach slices.
Return tea to pot, cover and let sit until tea is room temperature.
Place tea into a a pitcher for serving.
Refrigerate until chilled.