GaylaJ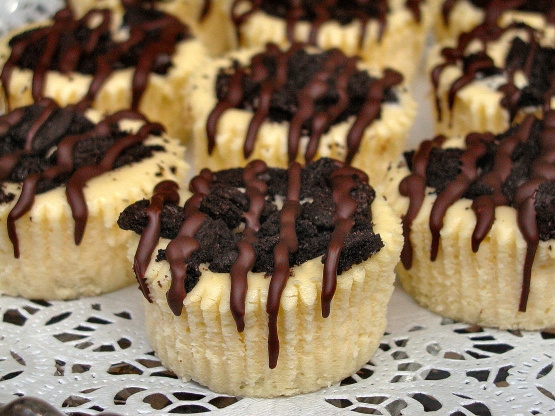 I got this from a BHG.com "Cook to Cook" discussion group thread where people shared their "I can't believe something this good is so easy to make" recipes. It was submitted by mardee1 and deserves repeating on Recipezaar.

10 star recipe! These were inhaled when I served them for dessert last night. We had our son over with his latest girlfriend. I knew she loved Oreos, so I made these mostly for her. I used the low-fat cream cheese and the reduced-fat Oreos to keep the calories in check. This recipe is a keeper...I hope the girlfriend is too!
Beat cream cheese, sugar, vanilla and eggs together until smooth Place an Oreo with frosting side up in the bottom of a lined muffin cup.
Top with cream cheese mixture.
Top that with crushed Oreo tops.
Bake at 325° for 25 minutes.
Remove from oven and cool.
Melt shortening and chocolate chips until smooth.
Drizzle over cooled cheesecakes.