Alice's Zucchini Cheese Casserole
Parsley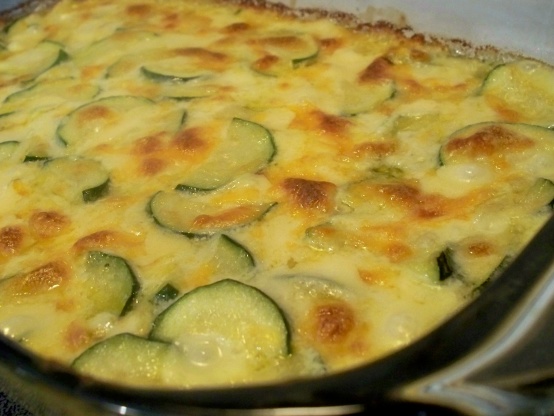 Your neighbor just brought you a sack of zucchini and you need help with how to cook them into something good your family will enjoy. You won't be sorry with this easy to put together casserole. This is just one of my many zucchini recipes. This is from Aunt Alice in Oklahoma in the 1970's.

Our family (and we have a couple of self proclaimed zucchini haters) loved this. This is my first go to when the zucchine plants are producing more than we can eat. I often print out this recipe and put in the bags of zucchini I take to the neighbors.
Saute zucchini, onion, and garlic in meltedbutter in a large skillet 5 minutes or until vegetables are crisp tender.
Remove skillet from heat.
Sprnkle flour and salt over sauteed vegetables, tossing gently to combine.
Stir in evaporated milk, sour cream and cheese.
Spoon zucchini mixture into a 1-quart casserole.
Bake at 350 degrees for 30 to 35 minutes or until cheese melts and mixture is hot and bubbly.
Serve immediately.