Prep 15 mins
Cook 1 hr 20 mins

I learned how to make this in France from some Algerian friends. I hope you enjoy it as much as I do!
Directions
Saute onion in vegetable stock over med. low heat until translucent.
Add all spices and cook for a few more minutes, stirring as needed.
Add tomato paste, stir and simmer 2 minutes.
Cut the vegetables in large chunks and add all (not the beans) and a dash of cinnamon; add water to cover.
Bring to a boil, then reduce heat and simmer, covered, for an hour or so.
(This can cook slowly for 2-3 hours, if desired.).
Add the drained garbanzos about 5 minutes before you take the veggies off the heat.
Put couscous in a bowl.
Pour boiling water over couscous and wait about 5 minutes.
Fluff with fork. (Ratio of about 1 1/2:1 of water to couscous.).
For added flavor, add some of the liquid from the veggie stew to the couscous in place of some of the water.
Serve the stew over the couscous. Enjoy!
Reviews
Most Helpful
This was delicious! Although I couldn't find any turmeric. I stayed with a French-Algerian couple on an organic farm in France and this recipe really took me back!
So delicious and very low calorie with no added fat! I was skeptical at first because I think it's best to add vegetable stock instead of water to my soups and stews, but I think this would turn out well with all water too (I actually ended up adding 1/3 stock and 2/3 water, for a total of 6 cups liquid). Instead of serving this with couscous I served it on its own with a spoon (if you include couscous I think no. of servings should be upped to 6). Also I added a bit less zucchini (1 large) and squash (2 medium), but if you are fond of those vegetables you'll probably want to include the recommended amount. I think the dash of cinnamon (in the directions but not in the list of ingredients as of this writing) was key and should be included. Thanks very much for this awesome and extremely healthy recipe!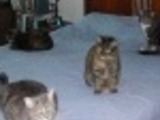 Easy to prepare ... Thankls.. !!!!