tifunny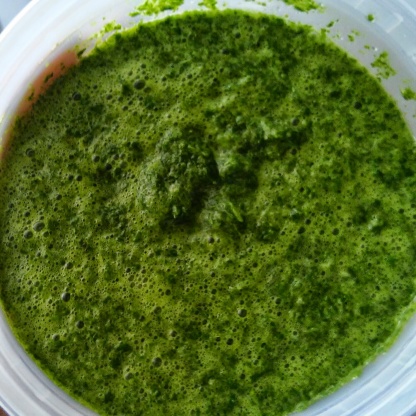 A multi-purpose condiment for using on boulanee, rice, pasta, etc. Very spicy and acidic! For best results use the freshest cilantro leaves you can find. An Afghani-American gave me this recipe sans measurements. Determination in recipe interpretation is a good trait. This isn't your run-of-the-mill condiment-very unusual indeed.

Good heavens. This is the best thing ever! I could literally just eat this with a spoon and and be happy forever. This is as close to SPOT ON as it gets. I was nervous to try it for fear that I would be disappointed. I have had the real deal at an authentic Afghan restaurant many times and always wanted to make it at home. WOW. I am so glad I found this and tried it. It is AMAZING. I did make one change: added about 1/4 cup of juice from my sliced jalapeno jar because I only bought one green chili and I like it hotter. Next time, I will double the pepper and possibly add a bit of fresh lemon juice. Cookgirl, you are officially my new favorite Zaary. Cannot thank you enough! Did I say I like it? TWENTY STARS!!
Combine all ingredients in blender or food processor and mix well.
Allow to marinate for at least 2 hours. The chutney will be somewhat watery.
NOTE: *when I did "research" for this recipe all the variations had nuts included. I never use them and prefer the chutney without.