Bergy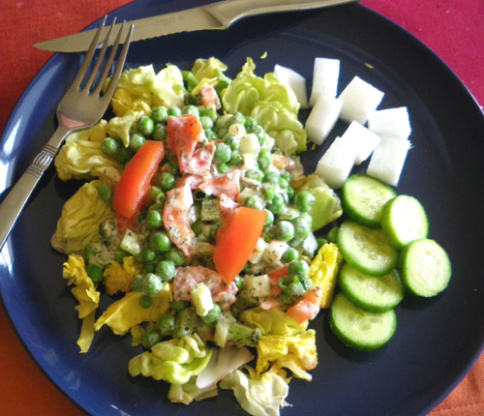 A colorful, easy and fresh tasting version of the traditional English Pea Salad. Chill out this summer with the perfect side dish for grilled food. Prep time does not include chilling.

Top Review by Poker
I did not make this recipe but my sister did . She dose not do much cooking . I was really surprised in the taste ! Didn't think cold peas would taste that good ! IT was excellent with our 4th of July Thanksgivivg Feast !! She said its really easy & it was her second presantation & its been a hit at the picnics ! Looks so interesting U have to try it!
Wash and drain lettuce, wrap in paper towels and chill until serving time, for a nice crisp lettuce do this at least 2 hours before serving.
Combine peas, celery, scallions, dill, salt, pepper and Miracle Whip and chill 1-2 hours.
Salt tomato, cover and leave at room temperature.
To serve combine tomato and juice with the pea mixture, spoon over lettuce.