Parsley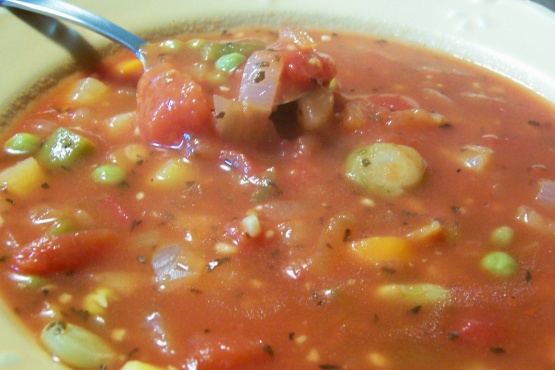 This is a diabetic recipe and is courtesy of OneTouch Gold. It is called 7-minute soup but, really takes about 30 minutes.

So easy and yummy....and very low-fat, too! It's great for those "sniffly" days. I used frozen soup mix veggies for the mixed veggies. I also added about 1 cup of veggie broth and a little sugar. My cold feels better already. :) I'll make this often. Thanx!
Spray a medium saucepan or large non-stick skillet with cooking spray and place over medium-high heat; add onion and saute briefly; add garlic and saute until onion and garlic are golden brown.
Add tomato sauce and tomatoes; chop tomatoes, coarsely with a spatula; add vegetables; season with basil.
Heat until vegetables are cooked through; this soup may also be made in the microwave; serve with a good whole grain bread or crusty rolls.