Junebug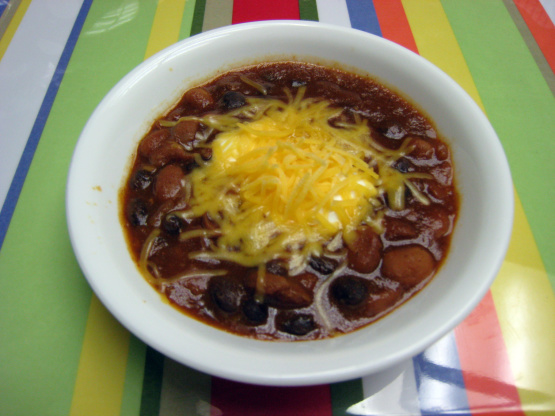 My family likes the chili made from the packet of 2-Alarm Chili, so one day I decided to measure out all the ingredients. It's much cheaper to measure out your own ingredients!

Top Review by PanNan
This is really great Texas chili (no beans allowed). Years ago we used to buy the Wick Fowler's 2 alarm chili mix and I also measured all the ingredients to re-create it without the mix. At the time, my kids were pretty young, and found it a bit too spicy. This chili has to have spice, but I modified it just a bit and they still love it that way today. I add an extra can of tomato sauce, and cut the chili powder to 1/3 cup, cumin to 1 tsp, cayenne red pepper to 1/2 tsp. Try it either way, you'll like it.
Brown beef in a Dutch oven; drain.
Add tomato sauce, 2 cups water, paprika, cumin, onion flakes, garlic salt, chili powder, and ground red pepper.
Cover and simmer for 30 minutes, stirring occasionally.
Dissolve 2 tablespoons masa into 1/4 cup hot water to make a thick, but flowable mixture.
Add masa mixture to chili.
Cover and simmer another 15-20 minutes.