10 Minute Szechuan Chicken
casey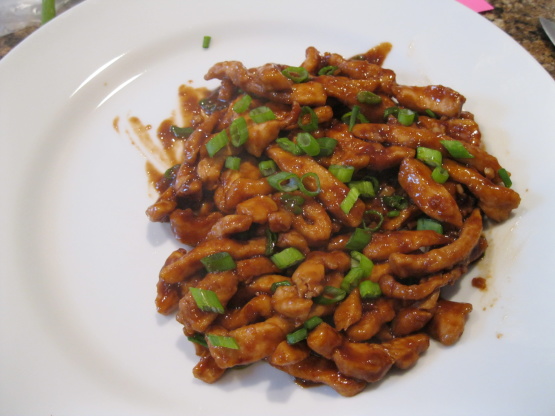 Fast and easy is a requirement in my house! (Updated April 16, 2006 to fix the order of the ingredients. I also took out the quantity for the oil so that the nutritional information is a little more accurate now.)

I'd give it a 4. Not a bad start...pretty salty, will use low sodium nxt time. We added broccoli. We decided to try it again, but do low sodium soya and refine our process. Thanks for your recipe!
Cut chicken into 1 1/2 inch cubes.
Lightly toss with cornstarch in bag to coat.
Heat oil in skillet or wok; stir-fry chicken and garlic until lightly browned.
Add soy sauce, vinegar, sugar and water.
Cover and cook 3 minutes or until chicken is cooked through.
Add green onions and cayenne; cook uncovered about 2 minutes longer.
Serve over white rice with a side salad for a complete meal.