1-2-3-4 Cake With Caramel Icing
Anne F.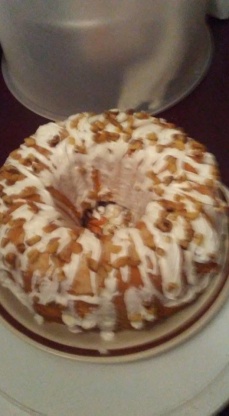 This really a scrumptious cake, though it is true, as some reviewers have noted, that the frosting just barely covers all three layers. You could double the recipe, as some people have done, or you could make a batch and a half. Your call. To make a batch and a half, the measurements would then be: 3/4 cup butter; 1-1/2 cups dark brown sugar; 1/4 + 2 tablespoons milk; and 3 cups of confectioner's sugar. Hopefully, this will give you enough frosting without having too much left over in your bowl, which, if you're anything like me, you will then be forced to eat at least *some* of, so as not to have to wash it all down the sink. ; )
I've been baking for 20+ years, and wouldn't try to make caramel icing (impatient). I looked for a homemade recipe that wasn't cooked the traditional time-consuming way. Viola, this is the perfect recipe....made it several times and my customers LOVE it!! Made the first batch with light brown sugar and the unsalted butter, way too sweet. I now use salted butter and dark brown sugar and that made it perfect. I don't get the stiffness the other reviewers get.
Preheat oven to 350 degrees.
Grease three 9-inch-round cake pans.
Line bottoms with waxed paper. Grease paper, and flour insides of pans.
Combine flour and baking powder in bowl.
Beat butter and sugar in another bowl at medium speed until smooth. Add eggs, beating until smooth.
At low speed, alternately beat in four mixture and milk.
Beat in vanilla.
Scrape into prepared pans, dividing evenly.
Bake in 350-degree oven 20 to 25 minutes or until wooden pick comes out clean. Cool in pans on wire racks 10 minutes.
Remove cakes from pans and cool completely on racks.
Meanwhile, prepare icing. *NOTE: The recipe states that "although the amount of icing seems small, it is enough to frost the cake. If you wish, the recipe may be doubled." I've found this to be true, but I recommend that you either double it or make a batch & a half, which is what I do.
Melt butter in saucepan over low heat. Add brown sugar and milk Bring to boiling, stirring to dissolve sugar.
Remove from heat. Cool.
Beat confectioners' sugar into milk mixture until smooth.
Frost and stack cake layers on cake plate, spreading 1/3 cup icing between each layer. Frost top and sides of cake with remaining icing.