Wok Tossed Lime and Chilli Chicken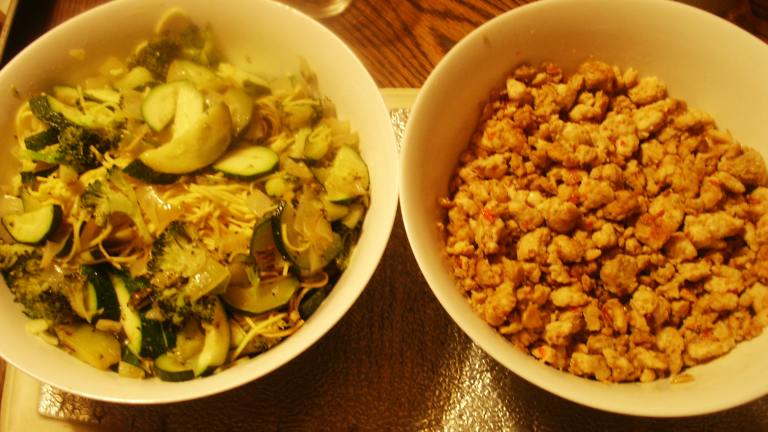 My kids LOVE this and have it once a week. I serve it in wraps or in lettuce leaves.
Ready In:

20mins

Yields:

Units:
directions
Mince ginger, lemongrass, chillies and garlic with a touch of salt in a processor to make a paste. Stir fry the paste in half the oil in a wok over a very high heat for about a minute or so.
Briefly pulse the chicken breasts until coarse minced but not mushy. Tip the remaining oil into the wok with the chicken, toss through and stir fry until brown, then stir in the sugar and fish sauce, and fry until things look sticky and a little caramelised.
Take off the heat and toss through all the remaining ingredients and serve with crunchy leaves, and extra lemon or lime wedges to squeeze over.
Tip: To make toasted rice, toast 2 tbsp uncooked rice in a heavy pot until golden brown all over. Keep shaking the pan so that it doesn't burn. Cool and whizz to a fine powder in a coffee grinder or spice mill.
Submit a Recipe Correction
RECIPE MADE WITH LOVE BY
"My kids LOVE this and have it once a week. I serve it in wraps or in lettuce leaves."
I rate quite harshly compared to most- this recipe got a compliment from DH... quite someting considering that chicken isn't his favourite choise of meat. I've given it 4 stars but will say right away that we will be working on this further (mostly becuase I didn't quite make it exactly as directed) because it *definiately* has potential to be a 5 star recipe. I miscalculated the chili peppers, (how many I bought in the shop, was not how many were left in the fridge when I came to make this) and I couldn't figure out what a "mild chili pepper" was...? sweet bell pepper maybe? everything I saw available here was labelled HOT HOT HOT. !My toasted rice went perfectly until the grinding stage, I tried it in the big food processor and then the hand blender and both times the grains just danced around the sides of the machine or the bowel, for the most part totally eluding the blades. I asked DH if I could use his battered old but perfect coffee grinder (if you know the Dutch and their coffee you will understand his unreasonable attachment to this little machine) and while he agreed and said *he* would do it... he hasn't bought himself to actually put rice into his beloved coffee grinder yet.(I may have to touch the treasured possession myself !!!)I had one lime, but felt that the flavour was so good that maybe two would have been better ? I will experiemt more once I have the full compliment of chilies and other ingredients and let you know what ends up being our favourite. The chicken was wonderful ... semi spicy but not too hot, flavourful and the lime really balanced things out better than I could have imagined from just looking at the ingredient list. A definiate recipe for my hand written family cookbook... Thanks for an excellent recipe !