Vegan Cornbread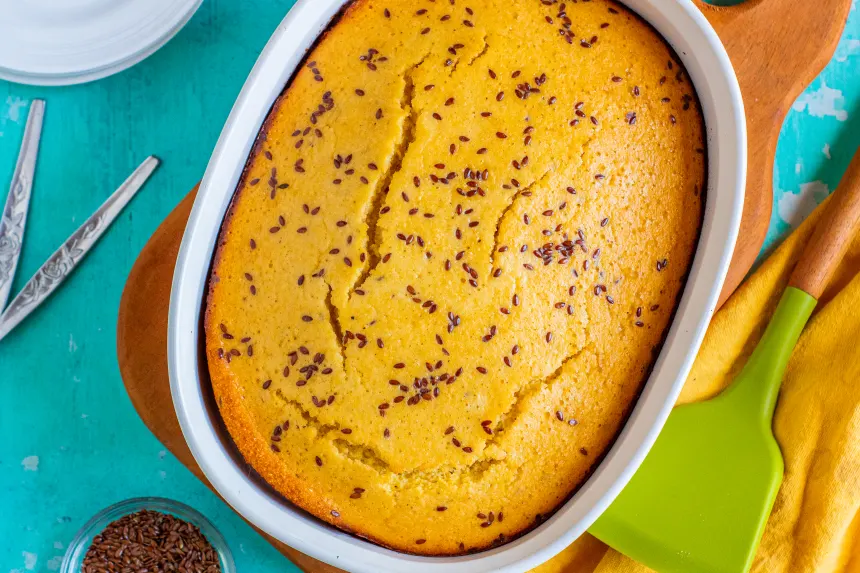 photo by limeandspoontt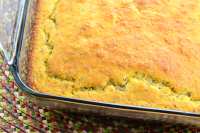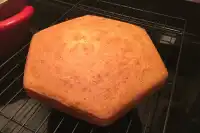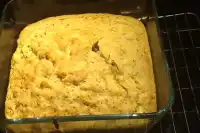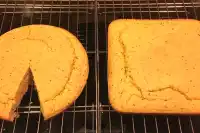 Ready In:

50mins

Ingredients:

9
directions
Preheat oven to 425°F
Spray 8-inch-square baking dish with nonstick cooking spray.
Bring the water to a boil in a small saucepan.
Add the ground flax seed, reduce the heat to medium-low, and simmer the ground flax seed in the water for 3 minutes or until thickened, stirring occasionally.
Set aside.
In a medium bowl, whisk together the flour, cornmeal, sugar, baking powder, and salt until well-combined.
Add the ground flax seed mixture, soy milk, and canola oil to the flour mixture.
Beat just until smooth (do not overbeat.)
Turn into prepared baking pan. Bake for 20 to 25 minutes, or until a toothpick inserted in the middle comes out clean.
Cool on wire rack 10 minutes; invert cornbread onto wire rack, then turn right side up and continue to cool until warm, about 10 minutes longer.
Questions & Replies

Reviews
This is the best vegan cornbread recipe I've found (and I been on a quest to find one for 5 years). I have a few tips for the other cooks out there. (1) Add one tablespoon of vital wheat gluten flour to help with the binding. (2) Let the batter sit for about 10 to 15 minutes before baking, in order to let it become more glutenous so it won't crumble when done baking. (3) Bake it in a cast iron skillet: First, preheat the cast iron skillet in the oven. When the oven is done preheating, it's time to add the batter. Take out the cast iron skillet with pot holders (It's hot!) add a tablespoon or 2 of oil, and roll it around greasing the bottom and sides. Then add the batter, and pop it back into the oven. Baking in the cast iron skillet give the cornbread nice crispy edges. I only needed to bake mine for 18 minutes. (4) 2 Variation ideas are adding a little vanilla extract, or some maple syrup with a can of drained chopped green chilis.

 

Really enjoyed this recipe! Recently, I've tried several to see if I can match Bob's prepackaged gluten free cornbread and this is very close! I am always substituting, so I thought I'd list...<br/><br/> ****substitutions*****<br/>1 cup all-purpose flour = 1/2 cup gluten free all-purpose 1/4 cup brown rice flour 1/4 cup corn flour<br/><br/>1/4 cup sugar = 3 tbsp agave and 8 drops of liquid stevia<br/><br/>1/4 cup oil = 1/4 cup applesauce <br/><br/>Hint~ I find that setting flax mixture on top of stove as it preheats works to help bind!

 

This an unbelievably good cornbread recipe. I've been trying for years to make cornbread like my mother's (open, course texture, slightly sweet) and have failed time and again. How a vegan recipe even came close to Mom's is inextricable to me, but here we are. This is the only cornbread recipe I'll ever use. The only things I changed were I used fresh ground cornmeal from my Vita-Mix (I like a certain toothiness), and I replaced sugar with raw honey. Trust this recipe!

 
Tweaks
After the water and ground flaxseed cool, I mixed it, the oil and unsweetened soy milk (or almond, as I used) together and whisked those until mixed. Then I mixed that into the already mixed dry ingredients. The same, large whisk worked for everything. I probably let it set for a minute, but not much more, before pouring into the metal pans (doubled recipe). Baked perfectly, and held together exactly as it should.

 

Loved the idea to use the cast iron to bake the bread. I followed recipe except for the flour - I used 1/2 regular whole grain and 1/2 Garbanzo flour. I followed another posters comment to let sit for 10 minutes while cast iron pan heated in the oven. I oiled the cast iron and added some corn grits on the bottom of the pan. Also added a handful of canned corn to batter. Using the cast iron pan cuts the baking time in half, so be careful! This recipe turned out fantastic!! Yum! Will become a staple recipe with veggie chili!

 
RECIPE SUBMITTED BY
My husband and I married straight out of college in July of 1992. I work as the Assistant Manager at a wine shop which allows me to drink on the job! (OK, not that much, but it's still a fun job...) Besides helping customers choose wine they will like (and also help with food and wine pairings for their menus), I also get to help with the catering end of the business, so I get to spend a fair amount of time in the kitchen making fun appetizers and beautiful food displays. I also work part-time at the fromagerie next door. So yeah - that means I eat on the job, too. :^D We live on several peaceful wooded acres on a cute little river in rural NE Wisconsin, with a cranky old-lady Burmese and whatever stray outdoor cats that have decided to adopt us on any given day. The cute puppy in the picture is Jake, our Elhew-bred English Pointer that we brought home on Easter weekend 2007. I've also got 2 painted turtles named Dennis and Fuzz, and a bunch of fish (koi and goldfish, along with the guppies & swordtails in the turtle tank). I USUALLY eat and cook healthy, but I rarely pass up dessert, either. I do not eat red meat, and try to limit other animal products, too. I love to bake, although I seem to collect a lot of scone and biscotti recipes which I NEVER get around to making. I bake and eat A LOT of cookies and muffins... I almost always reduce the sugar by 1/4 and use whole wheat pastry flour for at least part of the flour. Those two changes do so much to make recipes healthier without compromising taste. I try to reduce fat whenever I can, too, but while I want to eat healthy, I still want to ENJOY what I eat!!! I seem to give a lot of 4 and 5 star reviews here - I seem to have a pretty good sense of what I like by looking at a recipe before I try it. Thank you to anyone that tries my recipes in return, or photographs them. Amber: <img src="http://netnet.net/~mkburie/amber2.jpg"> ........And a grown up Jake (one year old in January 2008) :) - <img src="http://netnet.net/~mkburie/JAKE111307.JPG"> Charlotte (May 27, 1992-June 1, 2009): <img src="http://netnet.net/~mkburie/Charlott.jpg"> Ashley: Adopted October 8, 1996 - Passed Away January 6, 2009 <img src="http://netnet.net/~mkburie/ashley2.jpg"> Mike: September 26, 1994 - March 19, 2004<img src="http://netnet.net/~mkburie/mike1997-lr.JPG">.... <a href='http://www.niftymaps.com/visitor-map.php?id=36321'><img src='http://i.niftymaps.com/36321.png' alt='Click to zoom in on my visitor map!' border='0'></a>Create your free world <a href='http://www.niftymaps.com/' target='_blank'>visitor maps</a>
View Full Profile