Vanilla Souffle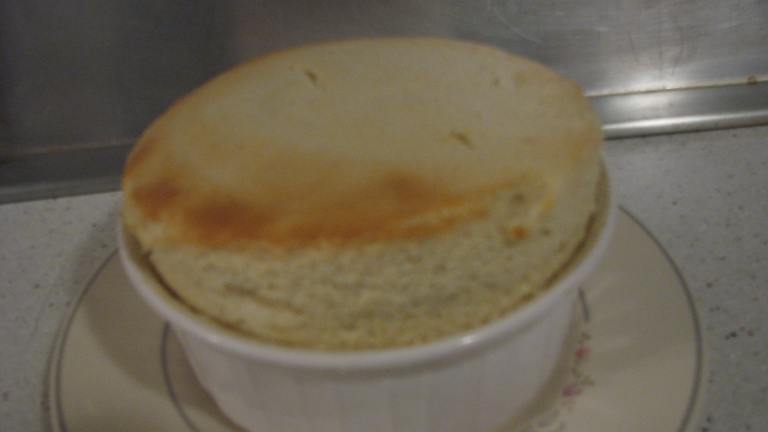 Ready In:

50mins

Serves:

Units:
directions
Butter and sugar eight 6-ounce soufflé dishes, including the rim of each dish.
In a medium saucepan over high heat, combine milk and vanilla bean with scrapings.
Bring to a boil, and remove from heat.
Cover, and let steep for 1 hour.
Remove bean from milk, and reserve for another use.
In a medium bowl, combine flour, 1/3 cup granulated sugar, and salt.
Add 1/2 cup steeped milk, whisking to combine and form a paste.
Transfer paste to saucepan with milk, and cook over medium heat while whisking constantly until thickened and smooth, about 5 to 8 minutes.
If the mixture begins to get lumpy, remove from heat, and whisk until smooth.
Remove saucepan from heat.
Prepare an ice-water bath: Fill a large bowl with cold water and ice.
Add egg yolks and vanilla extract to milk mixture, and whisk to combine.
Transfer soufflé base mixture to a shallow 1-quart container.
Cover surface directly with plastic wrap to prevent a skin from forming.
Set saucepan in the ice-water bath to cool completely.
Refrigerate until ready to use.
Remove soufflé base from refrigerator, and bring to room temperature, about 1 hour.
Preheat the oven to 375° with rack in center.
In the bowl of an electric mixer fitted with the whisk attachment, whip 5 egg whites on low speed with cream of tartar until foamy.
Gradually add remaining 1/4 cup sugar while slowly increasing the speed of the mixer until it is on high.
Whip until egg whites are stiff and shiny.
Gently fold egg whites into the soufflé base in three additions.
Divide between prepared dishes, gently tap on each dish on the work surface, and place on a baking sheet.
Transfer to oven, and bake until dark golden and the sides appear spongelike, 16 to 20 minutes.
Remove from oven, and dust with confectioners' sugar.
Serve immediately with vanilla bean ice cream.
Submit a Recipe Correction
Yes, this absolutely gets 5 stars! I did use the whole vanilla bean (YUMMMM!!!) and I didn't throw out the extra egg yolk - I aded it in withe the other 4 - didn't hurt the recipe at all (phew)!! It came out beautifully risen, light & fluffy & ohh sooo vanilla-ry!!! BUT...the recipe *as written*, needs some attention. Step 11-17 is where things get odd. It doesn't say that refrigerating the base then bringing it back to room temp is optional which I think it is...I didn't make the base ahead of time so after adding the egg yolks to the base, I let it cool to room temp and continued on as directed. I didn't bother with the plastic wrap & no 'skin' formed. :) The directions say to put the base in a 1qt container then put the saucepan in the ice-water bath (?) It calls for 1/4c grape juice...this is the 1/4c granulated sugar added to the egg whites. I just think it could be rewritten to be easier to follow & these few inconsistencies addressed. It is NOT a difficult recipe & I hope many people try it because the results are far more than worth the effort!!! I made this for PAC 9/06. Thank you for posting!!