Turkey - Deboned and Rolled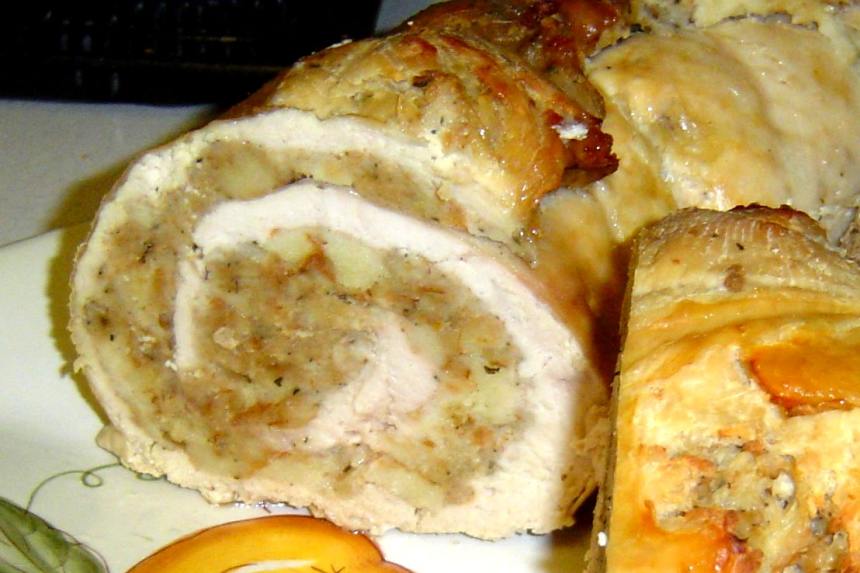 photo by billyjack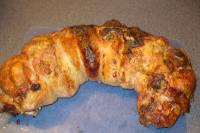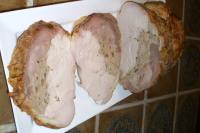 Ready In:

3hrs 45mins

Ingredients:

17
directions
DEBONE TURKEY (prep time doesn't include deboning -- this depends on skill, on average, about 1 hour should do it):

Set turkey, breast side down, on a stable work surface with the tail facing towards you. With a sharp knife slice skin along backbone from neck to tail. Cut and pull flesh away from carcass.
Cut flesh from shoulder blade near wing and remove bone. When you reach the wing joint, sever ball-and socket joint so they are separated from carcass but still attached to skin. Continue cutting breast meat away from bone up to the ridge of the breastbone. Turn the bird around and repeat on other side.
The bird should now be butterflied, with carcass attached only at the sternum, and wings and drumsticks still with bones. Pull gently to separate breastbone and carcass, being careful not to tear up the meat beneath the sternum.
Cut off wing tip and middle section, leaving largest wing bone. Holding outside of wing bone cut through tendons, and scrape meat from bone. Holding outside of wing bone cut through tendons and scrape meat from bone. Pull out bone using knife to free it.
Holding inside end of leg bone, cut through tendons attaching the flesh to the bone. Use a knife to scrape meat from bone, pushing it away from end of bone. Cut bone free of skin. Cut out any sinews still remaining on leg. Repeat on other side, then push leg and wing skin side out.
Butterfly breast so that meat completely covers the skin. Cover with plastic wrap and lightly pound meat until even.
Heat oven to 375 degrees F.
PREPARE STUFFING: In a skillet, sauté onion, garlic, 1 tablespoons chopped rosemary, sage, and mustard on 1 tablespoon olive oil over medium heat. Cook for 10 minutes, stirring occasionally, until onion is soft and translucent but not brown. Transfer to a large bowl and set aside to cool.
Add the ground turkey and pork, breadcrumbs, eggs, cream, 1 ½ teaspoons salt and ¼ teaspoon pepper. Stir to combine.
ROLL TURKEY: Lay turkey on a work surface, skin side down and season with 1 teaspoon salt, ½ teaspoon pepper, and remaining 2 tablespoons chopped rosemary.
Place stuffing in the middle of the turkey. Roll turkey up closing neck and tail ends together (each slice of the roll will have both dark and white meat), securing with toothpicks or wooden skewers to hold in place. Tie every 2 inches with kitchen twine.
Drizzle with remaining 2 tablespoons olive oil. Season with remaining teaspoon salt and ½ teaspoon pepper. Tuck rosemary branches along the top of the roll under the twine. Place on roasting rack over a large pan (we usually have to make a "U" shape).
ROAST TURKEY until thermometer registers 150 degrees, 2 to 2 ½ hours.
Remove from oven, brush with maple syrup and return to oven for additional 20 minutes, or until thermometer reads 160-165 degrees. The maple syrup glaze will give the roll a wonderful rich color.
REMOVE FROM OVEN and let rest for 10 minutes. Transfer to cutting board, remove twine and rosemary, and cut crosswise into ½ to 1-inch-thick slices.
Questions & Replies

Got a question?
Share it with the community!
Reviews
Okay, this tasted really great though I really followed the technique more than the recipe. However I'm not sure I would do it too many times. It was a lot of work to remove the bones. Not sure if I can find someone to do it here for me or not. Chef 599231 wasn't kidding about the profuse sweating. It was quite a workout. Not to mention I bleeped several four letter words while deboning. More than I've said in ten years. But I did it and it turned out great. Thanks for the inspiration.

 

I've made this recipe twice since seeing it on Martha Stewart's show. It really is a great tasting dish. However, it is also very time consuming deboning the turkey yourself. It takes me at least 1 & 1/2 hours because I use a 20 pound turkey...not to mention the profuse amount of sweating that takes place!! Next time, I will order the turkey from Andronico's and have them debone it for me. Otherwise, I highly recommend making this turkey. Your guests will be greatly impressed!!

 
RECIPE SUBMITTED BY
Because only five star reviews make no sense, and are not helpful if not sincere, I try to write honest and, as much as I can, fair reviews. So I came up with some "weights" for the stars and this is what they mean in my reviews: <b>5 Stars</b> = an excellent amazing recipe, the kind of dish that I would recommend to others, make again and again, and would not be ashamed to make for anybody. Basically, these are the recipes that would get 6 Stars if there were that many to give. <b>4 Stars</b> = a great dish! Just not the amazing great that is unforgettable and you would make for somebody as a special gift or a Thank You... <b>3 Stars</b> = a good recipe. If it's an easy simple recipe I would make it again for convenience, but would not do it often. Also, these are sometimes the recipes that I would substantially change the next time. <b>2 Stars</b> = edible, but just didn't work for us. Something is missing and with all other recipes out there would not make this again. <b>1 Star</b> = I am not sure what this would be. I imagine I am saving 1 Star for something that is inedible... I once made a horrible eggplant cheese casserole that we decided to throw out after just one bite. We did not even try to see if the dog would like it... Well, THAT was a 1 Star easily!
View Full Profile