The Best Bread Ever ;)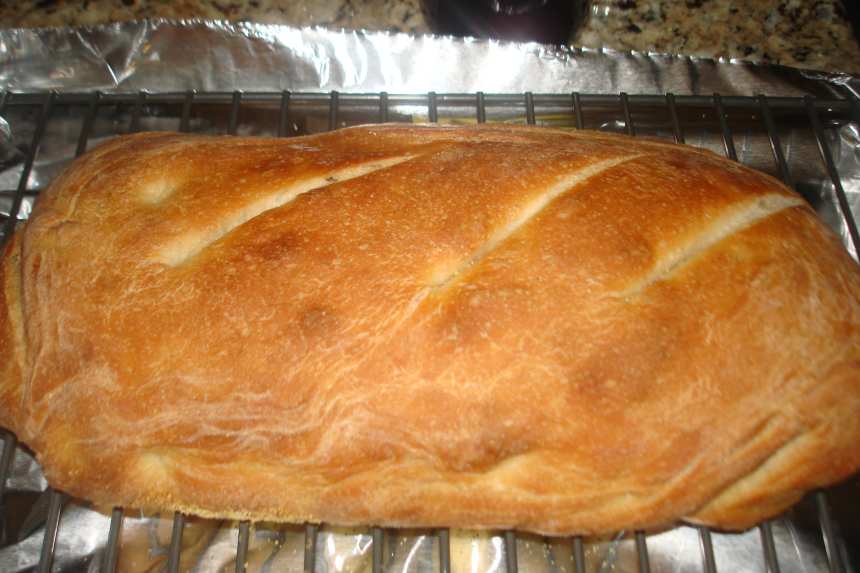 photo by msavatis

Ready In:

2hrs 35mins

Ingredients:

8

Serves:

6
directions
start by blending your flour, salt and sugar with a wisk in a large bowl, blend well for about one minute. in a measuring cup ad your yeast and a half cup of (a little warmer than) luke warm water (not hot) stir, cover for 2 minutes. Add one cup of (a little warmer than) luke warm water to your yeast mixture, cover. Make a well in your flour mixture add yeast and water mix. Cover the bowl with a warm damp cloth and a kitchen towel set aside for 10 minutes. When the bubbles in the water are showing that lets you know your yeast is working so now its time to start mixing. With a spatula ( i like to use plastic, it seems to stick less) start blending the flour mix with the water until a very sticky dough forms. prepare a cutting board for kneeding by dusting it with flour. dump your stick dough onto the board. dust your hands and start kneeding the dough for about ten minutes. ( i like to press my dough into a pizza shape and fold it press again fold, stretch etc. for about the first five minutes then i start a traditional kneeding action).
once a smooth texture is there ( carefull not to dry out your dough to much with flour) shape a round ball and coat with about 2 table spoons of EVVO.
Line a large bowl with wax paper and spray with non stick cooking spray, place dough in to rise. Cover with the same warm damp cloth and kitchen towel and place in room temperature for 1 1/2 hours ( up to 3 hours) for first rise.
Once the dough has doubled in size prepare your cutting board with wax paper coated with cooking spray. Remove dough from bowl onto prepared board. using your hands, ( not a knife) pull apart into two pieces, shape loaves. ( i like to make the loaves about 8 - 10 inches long and about 4 inches withe but this is not really important, sometimes i braid them too!)
OK, now place another piece of wax paper sprayed with cooking spray over the top of both loaves cover with a towel and place in room temp for 1 hour ( second rise). Now its time to prepare your oven. Pre heat oven to 425. cover your baking stone with about 1/4 cup of corn meal and place in the oven on middle rack. On a lower rack place pan with about 1 cup of water ( this keeps your crust from getting brown to quick) You want your baking stone to be really hot when its time to put the bread inches Once your hour is up your bread will have grown a bit ;) so remove your towels and wax paper with one hand ( im right handed) my left i place it gently on one loaf. using my right hand i take the wax paper and turn the loaf upside down into my left hand being carefull not to disturb the shape and air in my loaf. open the oven pull out your rack with the baking stone and place your loaf directly onto your cornmeal. close oven. set timer for 10 minutes. after 10 minutes turn down oven to 400 and bake for 20 more minutes. Watch that your crust isnt getting to brown (i like mine golden brown, think of the color of honey :) ) IF your crust is how you like it cover with a double fold of foil just over the top. turn oven off and let stand in oven for 5 more minutes. Remove to cooling rack. Slice after 10 minutes and serve. Repeat baking process with second loaf.
ENJOY!
Questions & Replies

Got a question?
Share it with the community!
Reviews
Have any thoughts about this recipe?
Share it with the community!