Starbucks Pumpkin Bread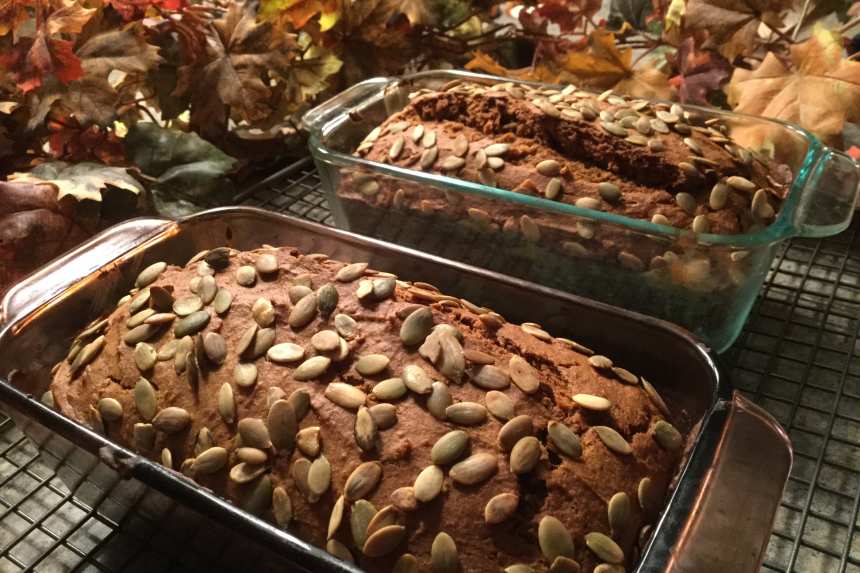 photo by Gloria Friesen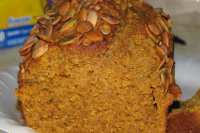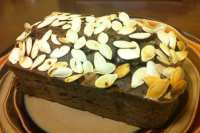 Ready In:

35mins

Ingredients:

14

Serves:

8
directions
Preheat oven to 350°F.
Butter and flour two 9x5x3 loaf pans or muffin tins.
Beat sugar and oil in a large bowl to blend.
Mix in eggs, pumpkin, and apple sauce.
Sift flour, cloves, cinnamon, nutmeg, baking soda, salt, and baking powder into another large bowl.
Stir into pumpkin mixture in 2 additions.
Divide batter equally among prepared pans (muffin tins).
Bake until tester comes out clean, about 1 hour for loaves, 20 min for muffins.
Transfer to cooling racks and cool for 10 minutes.
Turn out onto racks and cool completely.
Reviews
It is a good recipe. I did use the extra oil and add molasses but my first try didn't quite taste right... there was something missing in the flavor department.. I am a Barista at Starbucks so when we got our shipment of pumpkin bread in this year, I looked through the label and compared the ingredients to this recipe. Ginger is one of the spices that is in the Starbucks recipe but not in this one. So I tried this recipe again and added 2 tsp. of Ginger along with the extra oil and molasses and now (with the modifications) I feel like it is dead on!

 

The first time I made this I felt like the flavor was dead on, but it was a little dry (and I watched it in the oven like a hawk, so it wasn't overbaked). The second time I made it, I kept everything as is written, but added an additional 1/4 cup of oil & 3 T of molasses to up the moistness. It was much more moist and dead on to what I remembered Starbucks Pumpkin Bread to taste like. I wouldn't have thought to add that much of the spices, but truly, the level of spices is dead on. I'll definitely be keeping this recipe!

 

I followed the recipe (yes - make sure to use as much spice as noted) and added 3 T. molasses as another review recommended. I also used Splenda instead of white sugar and used eggbeaters instead of whole eggs. Yummy - even my grandson loved them! I made into muffins instead of bread and they make a great treat. I also added a bit of powdered sugar/milk glaze to the top. It is very moist and very flavorful. I'd say it's darn close to the Starbuck's pumpkin bread - which have given me the inspiration to look up the recipe and make it the same day...wonderful fall treat.

 

WOAH BUDDY!! Was skeptical like the others on the amount of spice but did not cut back as per their advice. SOOOO glad I trusted them. It's the best pumpkin bread I've ever had. EVER. I've tried finding a recipe like this for years. I even got one from a co-worker that was amazing but when I tried it myself it didn't come out (I think she fudged the recipe, but that's another story). I even made this in my Cuisinart bread machine. I put it on the 2 pound light crust cake setting. Came out perfect! Just make sure the machine mixed well.

 
Tweaks
Just made this last night. I followed the reviewers advice and add 1/4 cup of oil and 2 tsp of Ginger. I did not add the molasses because I hate molasses but I think I should have so it would have been extra moist. To fix the moisture problem I wrapped it up in plastic wrap and put it in a container right out of the oven. Had it with my coffee this morning!! Yum very close to starbucks!!! Oh, one more thing I add sunflower seeds to the top instead of pumpkin because Starbucks has sunflower seeds not pumpkin :)

 

This recipe is FANTASTIC! I made a few modifications though. Instead of 1 cup of regular sugar, I used raw turbinado sugar. Also instead of 1/2 of oil, I used freshly made applesauce so that would be 1 cup of applesauce total in the recipe (actually more like 1 1/2 with 4 apples). Basic way to do this = boil 4 apples until soft and chop/grind until smooth in food processor. This is a healthier alternative and it kept the bread VERY moist, which seems to be a problem with the regular recipe. I also put pumpkin seeds on the top of the breads, so that added some lovely texture and appearance to the bread. Delicious!

 
RECIPE SUBMITTED BY
Fave Cookbook is Anthony Bourdain's LES HALLES COOKBOOK (Classical French bistro cooking)
View Full Profile