Slow-Roasted Salmon With Cabbage, Bacon & Dill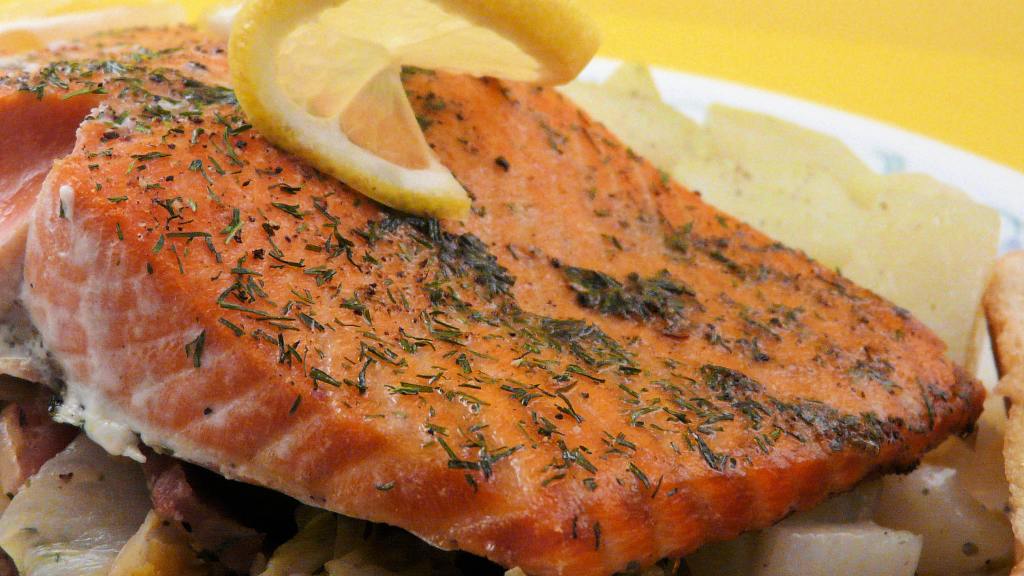 Ready In:

50mins

Ingredients:

10
ingredients
1

head savoy cabbage (3/4 head regular green cabbage can be substituted)

6

slices bacon, cut into 6 to 8 pieces each

1

onion, cut into small dice

1

cup water (plus additional if needed)

24

ounces salmon fillets, skin removed

1

teaspoon chopped fresh dill (plus additional for garnish)

4

tablespoons extra virgin olive oil (plus additional for drizzling over finished dish)

4

teaspoons butter

1

lemon, juice of

salt and pepper
directions
Halve the cabbage lengthwise, cut out the core, then remove the leaves and slice them into 2-1/2-inch squares.
Preheat the oven to 250°F.
Place the bacon in a medium sauce pot over medium heat. Render the bacon until cooked but not crispy.
You should have approximately 2 ounces (4 tablespoons) fat; if you have more, discard the excess.
Add the onion and sauté for 1 minute.
Add the cabbage and water and let simmer uncovered until the cabbage is tender, about 15 minutes.
If all the water evaporates during cooking, add more as needed until the cabbage is very tender.
Meanwhile, place the salmon fillets on a nonstick sheet pan.
Drizzle 1 tablespoon of the olive oil over each fillet.
Season with salt, pepper, and half the dill. Top each fillet with a teaspoon of butter and place in the oven.
Cook 15 to 18 minutes for medium rare, 21 to 24 minutes for medium (depending on the thickness of the fish), and if you cook it any longer than that, I can't be held responsible.
When the cabbage is meltingly soft and tender, season with salt, pepper, and the rest of the dill.
Keep warm while the salmon finishes cooking.
Remove the salmon from the oven and drizzle with the lemon juice.
To serve:.
Divide the cabbage between four dinner plates, top with the salmon fillets, and drizzle a little more olive oil over the fish.
Season with freshly ground pepper, sprinkled on and around the fish.
Garnish with additional fresh dill, if desired, and serve.
Join The Conversation
Loved it. I would have never thought of putting the cabbage and salmon together but it really works. The fish was cooked at 325 degrees as the 250 sounded a little low to me. The fish was cooked in the time that it took the cabbage to cook down. I didn't have fresh dill but did sprinkle both the fish and cabbage with dried dill. Something I will be making again.
RECIPE SUBMITTED BY
<p>I have always loved to cook. When I was little, I cooked with my Grandmother who had endless patience and extraordinary skill as a baker. And I cooked with my Mother, who had a set repertoire, but taught me many basics. Then I spent a summer with a French cousin who opened up a whole new world of cooking. And I grew up in New York City, which meant that I was surrounded by all varieties of wonderful food, from great bagels and white fish to all the wonders of Chinatown and Little Italy, from German to Spanish to Mexican to Puerto Rican to Cuban, not to mention Cuban-Chinese. And my parents loved good food, so I grew up eating things like roasted peppers, anchovies, cheeses, charcuterie, as well as burgers and the like. In my own cooking I try to use organics as much as possible; I never use canned soup or cake mix and, other than a cheese steak if I'm in Philly or pizza by the slice in New York, I don't eat fast food. So, while I think I eat and cook just about everything, I do have friends who think I'm picky--just because the only thing I've ever had from McDonald's is a diet Coke (and maybe a frie or two). I have collected literally hundreds of recipes, clipped from the Times or magazines, copied down from friends, cajoled out of restaurant chefs. Little by little, I am pulling out the ones I've made and loved and posting them here. Maybe someday, every drawer in my apartment won't crammed with recipes. (Of course, I'll always have those shelves crammed with cookbooks.) I'm still amazed and delighted by the friendliness and the incredible knowledge of the people here. 'Zaar has been a wonderful discovery for me.</p>
View Full Profile