Shining Star Cookies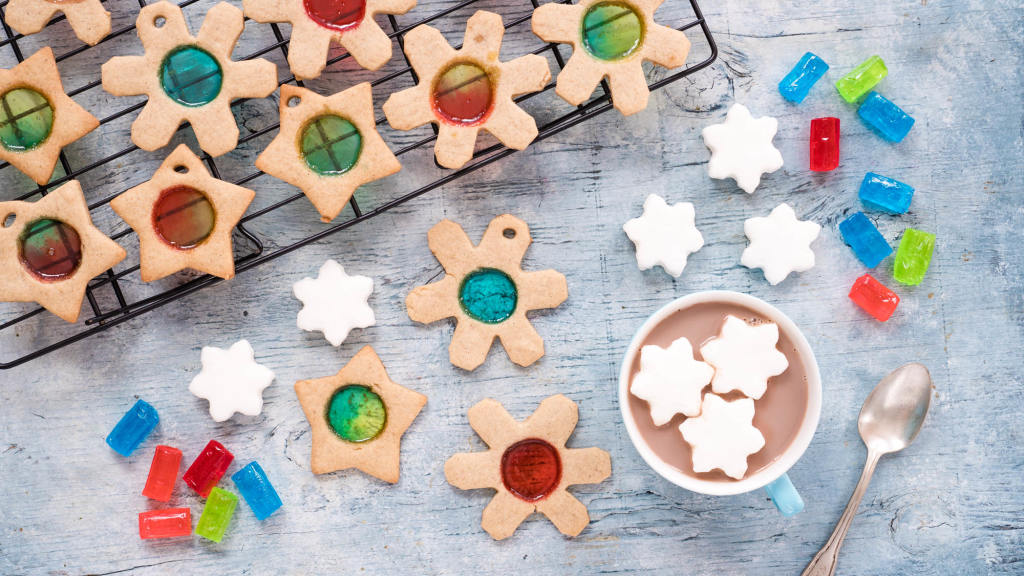 Ready In:

32mins

Ingredients:

6
directions
Preheat your oven to 350°F.
Put the sugar and butter into a large bowl. Stir them together with a wooden spoon, until the mixture is smooth.
Break the egg into to a separate bowl. Use a fork to stir the egg hard, until the yolk and the white are mixed together well. Mix the beaten egg into the mixture in the bowl, a little at a time.
Sift the flour and allspice through a sieve into the bowl. Mix everything together really well, using the wooden spoon.
Use your hands to squeeze the mixture together to make a dough. Then, squeeze the dough into a large ball.
Dust a clean work surface and rolling pin with a little flour. Don't use too much flour or the dough will get tough. Roll out the ball of dough until it is about 1/4 inch thick.
Draw around a cookie sheet on parchment paper. Cut out the shape and put it on the baking sheet. Cut the stars from the dough using the large star cookie cutter. Place the stars on the parchment sheet.
Make a hole in each star by pressing the drinking straw through the dough, near to the top of one of the points.
use the small cookie cutter to cut a hole in the middle of each star. The hole should be only slightly bigger than the candy.
Squeeze the scraps of dough into a ball. Roll out the dough again and cut out the rest of the stars. Place them on the parchment sheet and make holes and circles in them too.
Put a candy into the middle of each star. It looks better if you use different colored hard candies. Put the cookie sheet on the middle shelf of the oven and bake the stars at 350°F for 12 minutes.
Take the cookies out of the oven. Leave them on the baking sheets until they have cooled completely. Remove carefully. This is where you can eat them, or make them into ornaments by stringing a ribbon through each hole at the tip of the stars.