Shapiro's Stuffed Cabbage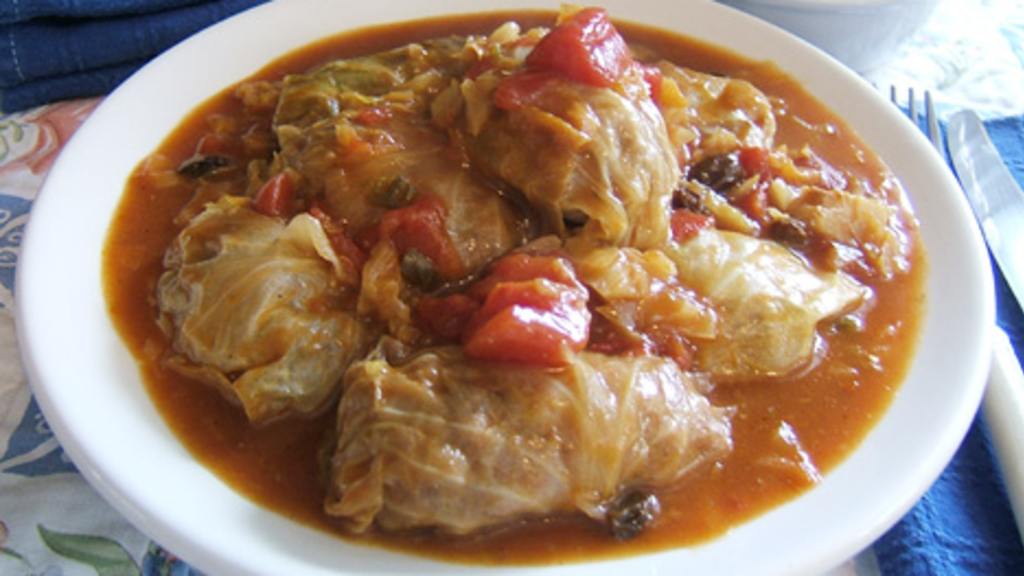 Ready In:

2hrs 30mins

Ingredients:

18
directions
Core cabbage and blanch in a large pot of boiling water until leaves begin to loosen.
Soak bread in red wine.
Combine ground chuck, onion, celery and egg; mix in wet bread (bare hands are the best tools for this.
Add tomato juice, rice, salt and pepper.
Carefully peel off cabbage leaves and roll each around 1 to 2 tablespoons of the meat mixture, tucking in the sides to hold it together.
Repeat until all the beef is wrapped. There should be 18 to 20 packets.
Chop remaining cabbage leaves and reserve 4 cups.
Prepare sauce: In a large stock pot heat stewed tomatoes, puree, water, brown sugar and lemon juice. Crumble gingersnaps and stir into mixture.
Stir in raisins and chopped cabbage leaves. (Taste at this point and add more salt and pepper if necessary).
Carefully add stuffed cabbage packets to sauce.
Cover and cook over medium-low heat for 1 hour and 15 minutes.
Check occasionally and add 1/4 to 1/2 cup tomato juice to sauce if it seems to be drying out.
Join The Conversation
Don't know if these taste like Shapiro's but they are excellent cabbage rolls. I had enough mixture to make 25 rolls. Not sure which cabbage you used but I used savoy cabbage because it is my favorite. I also used a half/half mix of veal and beef and the meat filling was so yummy. The sauce was very flavorful too and the right amount. But I will probably have to add a bit of tomato juice or sauce when I take out of the freezer for another meal. These are excellent with mashed potatoes or risotto. Thanks for sharing a wonderful recipe Mary

Mary K.W., I love Shapiro's Stuffed Cabbage. When I lived in Indianapolis we used to go to Shapiro and that's what I would order. Now that I live in Southern California I miss Shapiro. Thank you for this posting. Would you happen to have Shapiro's Macaroni and Cheese recipe, because I LOVE that. Thank you.