Rugelach (Filled Cream Cheese Cookies)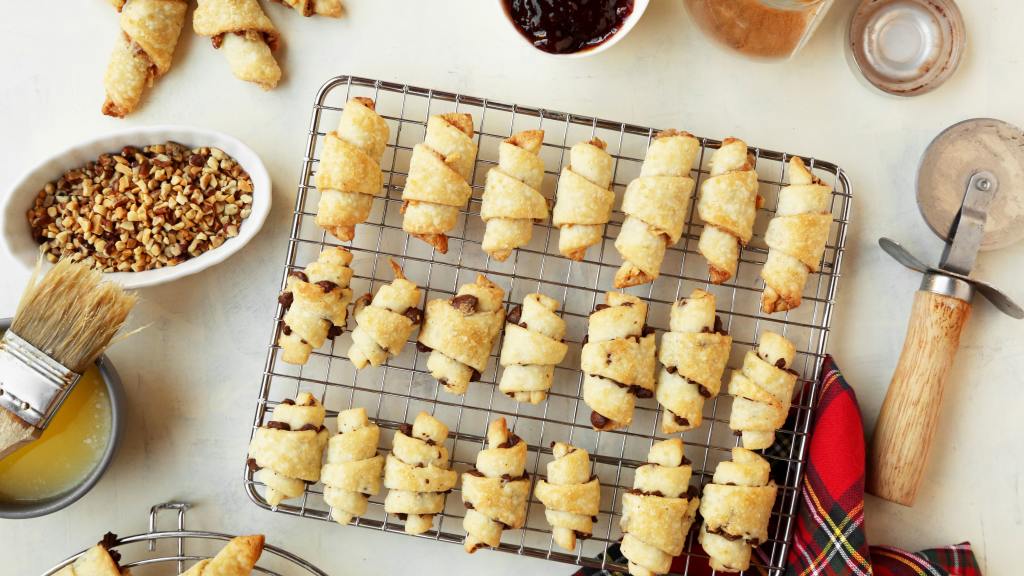 Ready In:

1hr 12mins

Ingredients:

18
ingredients
Dough

1⁄2 lb unsalted butter, softened

8

ounces cream cheese, softened

2

cups all-purpose flour

1

tablespoon icing sugar

1

pinch salt

Topping

1⁄2 cup butter, melted
1⁄4 cup sugar (during the holidays, I use one of those coloured sugars)

Nut Filling

1⁄2 cup sugar

1

teaspoon cinnamon
1 1⁄2

cups finely chopped nuts (I like to use walnuts, almonds or hazelnuts)

3

tablespoons butter, melted

Jam Filling

1

cup ground almonds

1

cup jam (I like to use apricot, peach, strawberry or raspberry)

Chocolate Filling

3

tablespoons butter, at room temperature, combined with

1

cup chocolate chips

Date Filling

3

tablespoons butter, at room temperature combined with
3⁄4 finely chopped dates, and
1⁄2 teaspoon cinnamon
directions
In a mixing bowl or food processor, cream the butter and cream cheese together.
Add the pinch of salt and sugar.
Beat in the flour, a little at a time.
Knead the dough lightly until all the flour is incorporated.
Divide the dough into 4 equal portions and refrigerate at least 1 hour.
Prepare one of the fillings by combining the ingredients (except the 1/4 cup sugar for the topping) and set aside.
Flour the surface you will be rolling out the pastry on very generously.
This is a delicate dough and is apt to stick.
Roll out one of the portions of dough into a 10 inch in diameter circle.
With a knife or pastry wheel, cut the pastry into 10-12 pie-shaped wedges (depending on how large or small you want the rugelach to be- I go for smaller).
If the dough is sticky, dust it with a little flour.
Sprinkle or spread a little of the filling of your choice on each little wedge.
Beginning at the wide edge, roll the dough up toward the point, as you would make a crescent roll or a croissant, turning the ends in slightly to achieve the crescent.
Place on an ungreased cookie sheet and brush with melted butter and sprinkle with a tiny bit of the topping sugar (this step can also be done just before baking and ensure that the sugar is not knocked off in the freezer).
Repeat with the rest of the dough and filling.
At this point, I pop the cookie sheet directly into my freezer and freeze the rugelach individually.
When frozen, I pack them into ziploc bags to use at whim over the holidays (and not just) so they can be freshly-baked for any occasion.
Preheat oven to 350°F and bake for 20-25 minutes, or until golden, brushing with melted butter after 15 minutes if desired.