Rosemary Chicken and Potato Pizza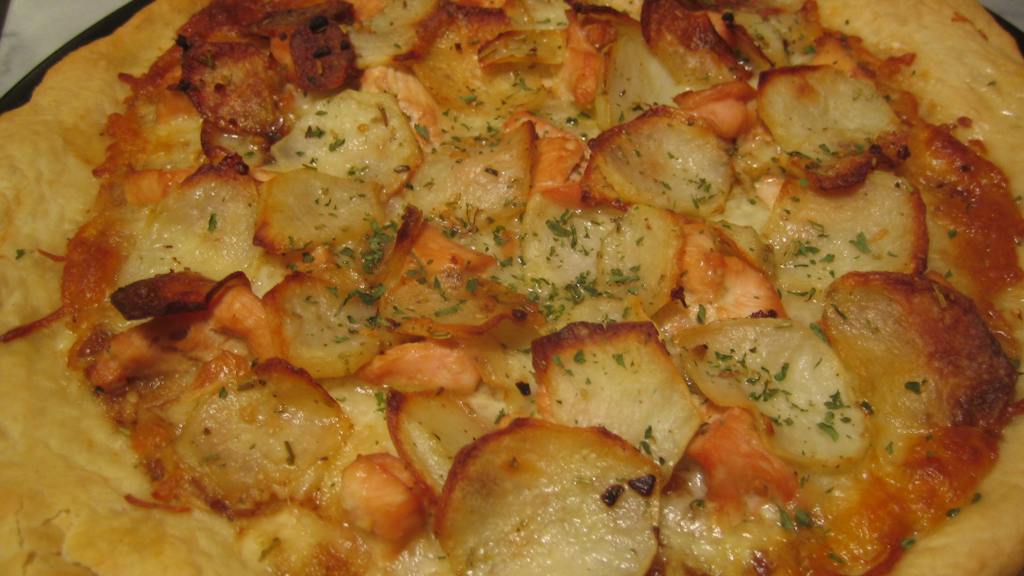 Ready In:

1hr 25mins

Ingredients:

26
directions
garlic-shallot butter with lemon:

melt 1 T butter in a nonstick saucepan over medium high heat.
add shallot, garlic and thyme.
cook, stirring until mixture is light brown 7-8 minutes.
add salt, pepper, wine, lemon juice and chicken base.
cook till mixture is reduced to about 1/2 cup (toward the end, reduce heat to low and stir frequently to prevent scorching).
Remove from heat, quickly and thoroughly whisk in remaining 4 T butter.

Rosemary potatoes:

preheat oven to 325.
combine sliced potatoes with garlic, oregano, rosemary, white pepper, salt and olive oil; coat thoroughly.
transfer the potato slices to a sheet pan; spread them out in a single layer, do not overlap.
discard leftover marinade - do not pour it over the potatoes.
cook the potatoes in the preheated oven for approximately 45 minutes.
some of the slices may need to be flipped over to promote even browning.
remove the potatoes from the oven when they begin to brown.
use a steel spatula to remove the potatoes from the sheet pan.
place potatoes on paper towels at room temperature to drain off any excess oil. do not refrigerate.

Grilled garlic chicken:

combine garlic, soy sauce, salt and olive oil. marinate the chicken breasts in the garlic oil for about 15 minutes.
grill the chicken breasts for 5-7 minutes on each side (discard uncooked marinade).
remove the cooked chicken from the grill and chill thoroughly.
cut into 3/4 inch cubes and set aside in refrigerator.

to make pizza:

preheat oven to 400.
prepare pizza dough, and spread out onto your favorite pizza pan (use your favorite dough, homemade or storebought).
use a large spoon to spread garlic shallot butter over the surface of the prepared pizza dough, within the rim.
cover the butter with the mozzarella.
distribute the grilled garlic chicken evenly over the cheese.
sprinkle the rosemary and oregano over the chicken.
place the rosemary potatoes over the other toppings, spaced abotu 1 inch apart.
transfer the pizza to the oven, bake till the crust is crisp and golden and the cheese at the center is bubbly, about 12-15 minutes.
when cooked, carefully remove the pizza from the oven.
sprinkle half the parsley over the hot potato topping.
slice and serve.
Join The Conversation
I'd been eying this recipe for awhile and since I finally had potatoes and shallots on hand, decided to give it a try! I already had some chicken grilled (with pesto) so this cut down on prep. I added some of the cheese on top of the potatoes, too. I used Recipe #4892 and let it rise again (after it was shaped in the pan). It turned out nice and substantial this way. The flavors are great in the pizza and the garlic shallot butter is a bit different than reg. garlic butter, more mellow in flavor. I could see this pizza being served at CPK! Thanks Pattikay, for posting. Roxygirl

I was feeling VERY over zealous today with cooking. Let me start off by saying this dish does take quite some time to prepare but it was well worth it I feel and so does my mother. I used a bread stick dough recipe for the pizza dough with very good results as well as reduced this recipe by quite some bit just for two people. I made the chicken and potatoes really early this morning as well as made the dough early in the day and put it all in the fridge until I was ready to bake it. So really if you are organized this recipe isnt as scary as it looks. I grilled my chicken on my george forman grill as well as grilled the potatoes too so it wouldnt really take as long. The chicken is so good on its own I plan on making this marinade for the chicken on its own. I really enjoyed the butter also, I plan on making that again and just serving it over veggies or something like that. All in all this is a very diffrent, but excellent pizza that is EXTREMLY filling. I plan on making this again and playing around with the ingredients. Oh yeah, I added some feta and a lot more moz since I kinda am a cheese fanatic lol!