Rose Truffles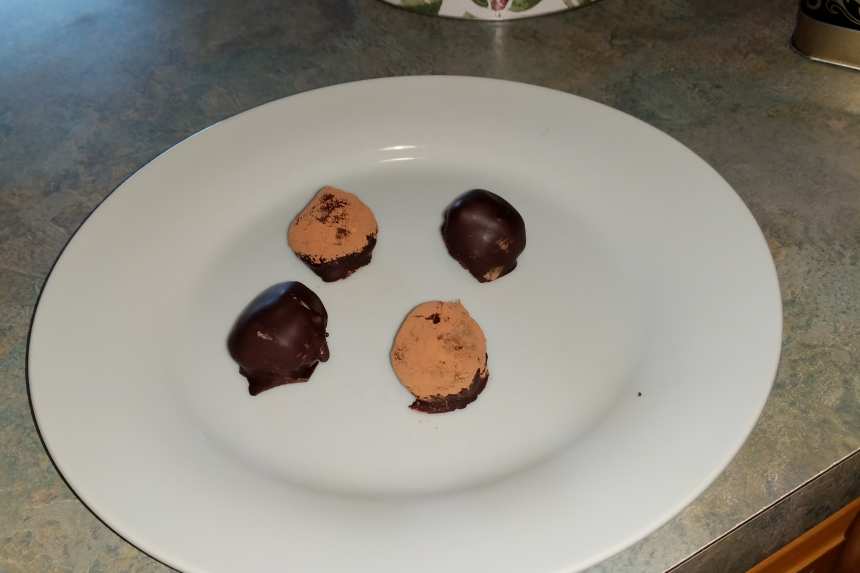 photo by David O.
Ready In:

1hr 7mins

Ingredients:

9

Serves:

18
ingredients
BASE

8

ounces bittersweet chocolate chips, coarsely chopped (high quality brand such as Ghiradelli or Vahlrona, this makes a big difference)

2

ounces milk chocolate chips, coarsely chopped

1⁄2

cup whipping cream

1

pinch salt

1

egg yolk, beaten (optional)

FLAVORING

2

tablespoons rose water

1

tablespoon Amaretto

SHELL (see directions for additional ideas)

8

ounces bittersweet chocolate chips, coarsely chopped

2

ounces milk chocolate chips, coarsely chopped
directions
First, A BRIEF NOTE, if you have not worked with tempered chocolate before: It is very temperature-sensitive (do not go above 100F, use a candy thermometer if you have one). It requires lots of patience. If you try to rush the melting, you will probably ruin your chocolate. It requires CLEAN and DRY utensils and pots (cold liquids/water will ruin your temper as well). It works best in bigger batches (you can double this recipe and add different flavors, but it may not come out right if you halve it). That being said, truffle-making isn't really that hard, there are just lots of ways that you can go wrong. Be adventurous!
In a small saucepan over medium-low heat, heat the whipping cream. Be sure to stir very frequently or else a film will form at the top of it (skim it off if this is the case). Bring to a boil while continuing with the next steps, then decrease the heat. Continue to stir.
Add the salt.
Set up a double boiler (a medium metal bowl or saute pan over a medium sauce pot) with about 1 inch of water at the bottom of the bottom pot (the water should NOT touch the top pot, and there should be no gaps for the steam to escape). Put it on medium heat until the top pot is warm to the touch (a minute or two) then decrease the heat to low.
Add about a third of the chopped bittersweet and milk chocolate to the top of the double boiler. Stir it gently until it has melted, checking that the temperature never reaches 100°F (using a candy thermometer or checking it to your body temperature - it should be about the same).
Add the next third of the chocolate and the beaten yolk (optional). Stir until the mixture thickens and the chocolate is melted.
Add the rest of the chocolate and pour the warm cream over it.
Immediately remove the top bowl from the double boiler and set it on the counter. Carefully wipe off any condensation as you do so to prevent the chocolate from spoiling.
Continue to stir gently (at this point, vigorous stirring will create bubbles). The residual heat should melt the remaining chocolate in a few minutes. If it does not, you can put it back on the double boiler for a short while.
After the chocolate is melted, stir in the rose water and Amaretto until the texture is smooth and silky.
Cover and refrigerate for about 1/2 hour so that the chocolate firms up a little.
Once the chocolate is more moldable, scoop out rough, rounded teaspoon sized balls (use a small cookie scoop if you have one). Work quickly with minimal hand contact; do not worry about making them perfect yet. You may need a pair of plastic gloves if you have problems with melting.
Refrigerate the balls for about 5 minutes more, then you can pull them out again and perfect the shape. Put them back in the fridge when you are done.
Meanwhile, put the bittersweet and milk chocolate for the shell into a microwave safe cup or bowl. Pick one that will allow you to immerse the truffle entirely.
Microwave the chocolate for 15-20 second bursts on 60% power (this may vary with your microwave's power; it is better to start out real slow until you get a feel for it). Stir briefly between each burst. After about a minute or so, the chocolate should be mostly melted and you can use the residual heat to melt the rest while stirring.
Use skewers, dipping forks, or plastic forks to quickly immerse the truffle into the chocolate, then slide it off onto a plastic plate or a piece of wax paper (you may need a second utensil to help shove it off. Work as quickly as you can so that the truffle doesn't dry onto the fork). If you start to get a melty mess, put the truffles back into the fridge for a little while.
Once all of your truffles are happily dipped, put them back into the fridge (again) for about half an hour so that the shell will harden, and then start pigging out! Enjoy! :) You can save the excess shell chocolate for your next truffle adventure.

ALTERNATIVE COATINGS:

Roll chilled truffle balls into a mixture of confectioner's sugar and a splash of rose water.
Pipe a pink rose on top of the hardened shell.
Use a floral mold to make creative shapes (follow the directions on the package for making the candies; you will need to make the shell first and them fill it with the molten chocolate).
Use white chocolate and dye it pink to make pretty flowers (make sure that you use oil-based dyes, not food dyes!).
Be creative! Have fun!
Questions & Replies

Got a question?
Share it with the community!
Reviews
Have any thoughts about this recipe?
Share it with the community!
RECIPE SUBMITTED BY
Recently graduated and recently married I love to make things by hand - this includes anything for jewelry to home decor and (of course) to delicious, wholesome food.
View Full Profile