Rice Cooker Tapioca Pudding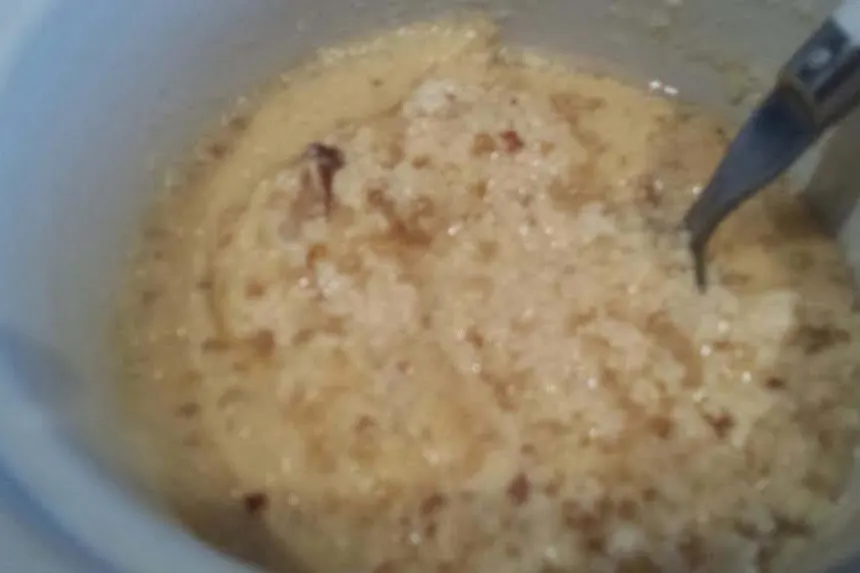 photo by WillowsMoon C.
Ready In:

25mins

Ingredients:

6
directions
Place the tapioca in the rice cooker bowl.
In a 4-cup measuring cup or small bowl, whisk together the milk, egg, sugar, and salt.
Pour the milk mixture over the tapioca; stir to combine.
Close the cover and set for the Porridge cycle or approxiamately 20 minutes.
When the machine switches to the Keep Warm cycle, remove the bowl from the cooker and stir in the vanilla.
Pour the pudding into a large bowl or individual dessert dishes.
Let cool.
Serve warm, if desired, or refrigerate, covered with plastic wrap.
Questions & Replies

Got a question?
Share it with the community!
Reviews
First of all your rice cooked must have a porridge setting or you will have problems. The porridge setting has a lower temp and keeps your milk from burning.<br/>Tapioca pearls can be found at Asian food markets for about $1.50 a 16oz bag.<br/>You can use coconut milk, rice milk, or whatever other milk..powdered etc.<br/>I recommend you open the lid and stir 2 or 3 times while it's cooking.

 

I made this 3 times and it came out amazingly perfect each time. I used sweetened vanilla almond milk the first time and omitted the sugar. Absolutely fantastic, but not too sweet so added 1/4 C sugar the second time with half milk and half almond milk. Once again perfect. I used the porridge cycle and stirred every 15 min. The second time I added 2T of butter in the beginning and it seemed a tad richer. I am now making it with lowfat milk and I believe it will turn out perfect too. I have a Sanyo rice cooker with fuzzy logic so perhaps that makes a difference? I will probably make this weekly because it is so simple... :) I love it!

 

Sad you can't rate this with a - star count...I have been cooking personally and professionally for 40 years, I saw this recipe and thought..."Oh why not" I might as well give it a try. My rice cooker is small, and has no additional settings, but I thought I would give it a go anyway. Holeee... after about 10 minutes the cooker turned off and what was left in the cooker was a congealed, overly sweet, burnt mess... with uncooked tapioca floating in it. It looked like a bad egg flower soup... so I started over on the stove as normal with 1/2 the sugar and 2 egg yolks, (no egg whites) stirring constantly for 30 minutes and came out with a perfect tapioca. This recipe should have warned, if you do not have a porridge setting on your rice cooker (I have never seen one) do not use this method. Thanks for teaching an old dog new tricks are lame. I cannot imagine eating this c%@p myself, much less feeding it to anyone I love... ugh

 
Tweaks
This is a good recipe whose only flaw is that I think it depends on the sort of rice cooker you are using. Mine also got stuck to the bottom (but I took care to stir it a lot so it wasn't an issue), and the egg seemed to cook a bit prematurely judging by the texture of it - it does not have a smooth consistency. I've never had tapioca pudding before so I don't know if that's normal. The tapioca is not cooked in the middle (I think this is also a rice cooker getting too hot problem). The sugar was a bit too much for me also but I did use caster - next time I'll probably halve it. That being said, the final result is tasty! It almost doesn't need any flavouring - I had no vanilla so I put in two cardamom pods and some cinnamon bark instead. All in all it's a good recipe, but you will need to tweak it according to your rice cooker!

 
RECIPE SUBMITTED BY
I live in Las Vegas. I was lucky enough to run into Recipezaar around Nov. 2000 and got hooked quickly. I am a cookbook collector and have been collecting recipes for as long as I can remember. My DH had to build in shelves for all my cookbooks! I like to dabble with OAMC and for a few years hosted the Budget/OAMC forum with some great people over there. Even though I don't work in the forum any longer I've set up a lot of cookbooks for the purpose of OAMC and stretching food that might be helpful. Please feel free to check them out! I go on food jags and cooking jags! Please come say hi to me and chat on facebook. I currently host a blog for saving money through finding deals and coupons if you are interested. Most of the time I try to cook and have a good dinner on the table but I'll be honest enough to say there is still fast food occasionally in the budget! I have had such wonderful support here whenever I need it. Thank you all for being here! Just a quick note on how I rate recipes: ? 5 stars - This recipe is perfect. (My DH is truly a critic and doesn't give 5's unless it's amazing) I would recommend it to others and would definitely make again. ? 4 stars - This recipe was good but I would change something in it next time. ? 3 stars - This is a recipe I would not make again but it was OK ? 2 stars - This recipe I would not make again and we didn't like it at all ? 1 star - This recipes did not work out/taste was unappealing and wouldn't make again
View Full Profile