Quick and Easy Chicken and Chips Casserole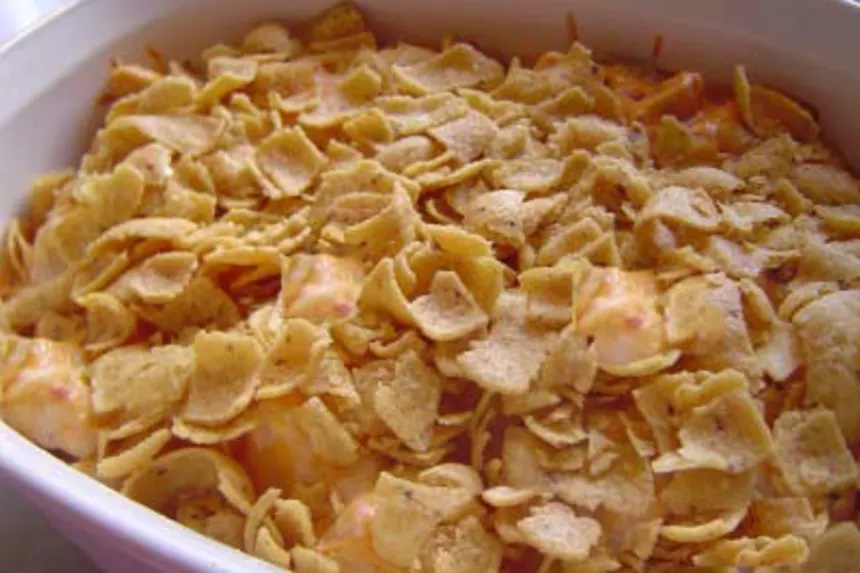 photo by Dine Dish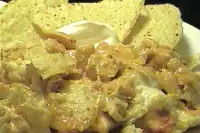 Ready In:

40mins

Ingredients:

6
directions
Combine chicken, soup, sour cream, and picante sauce, mixing well.
Spoon 1/2 mixture into lightly greased 2-quart round casserole dish.
Sprinkle 1/2 of cheese over first layer.
Add 1/2 of the crushed corn chips.
Repeat a second layer by adding the rest of the chicken mixture, cheese and then the rest of the chips.
Bake, uncovered at 350 degrees Fahrenheit for 20-25 minutes.
Questions & Replies

Got a question?
Share it with the community!
Reviews
Since I always add my own kick to a recipe, I changed this up a bit. Added a can of green chilies, a package of taco seasoning mix and a cheap jar of salsa to the cream of chicken/sour cream mixture. Layered the corn chips in two layers and used a package of grated Monterey Jack cheese. It was a huge hit with my family!

 

Update: I thawed and reheated leftovers - it was very tasty. Maybe this recipe is one that needs time for flavors to marry. I'm rating it today! Older Review: I was disappointed. Being from the South, we like our Mexican dishes having lots of flavor. I increased the Salsa to 1/2 cup and used a Mexican form of sour cream. Upon another reviewer's comment, I added a pinch of cayenne pepper. The dish was bland and the corn chip flavor over-powered. I would prefer a white corn or tortilla chip. DO TRY this dish as it may be perfect for you - if you want more zing, you may wish to alter the recipe. I must add that my picky DD cleaned her plate.

 

I needed something fast and easy and this dish certainly fit the bill. I followed the recipe with a few modifications. I used two large cans (14.5 oz) of Kirkland brand chicken breast, drained, I only had 1 1/2 cups of the corn chips so I compensated with 1 1/2 cups corn tortilla chips, I used Kraft Mexican blend shredded cheese (not the seasoned kind) and I added a 4 oz can of chopped mild green chilis. I put the corn chips in the center layer and the tortilla chips on the top. I don't know if there were too many chips or if it would have been better if I had used all corn chips, but the tortilla chips really seemed to over power the rest of the dish. That is except for the cheese. I am a huge cheese fan and usually put more cheese in a recipe than called for. But i used the full 2 cups of cheese in a square 8x8 2 quart casserole and I think that's too much cheese for a dish this size, so next time I scale back a little on the cheese and the chips. Even without these changes, the dish was good. My husband said it was really good after he added more salsa to the top of the dish after serving. My kids and I ate about a third of the casserole, and when my husband got home from softball, he finished off the rest. For the ease, and for as much as my husband liked this, it gets a solid 4 stars from us. We will be making this again. Thanks!

 
RECIPE SUBMITTED BY
<p style=color: #212121; font-family: alexandriaflfregular, AppleGothic, Arial, sans-serif; font-size: 14px; line-height: 22px; margin: 0px; padding: 0px 0px 15px;><span style=color: #000000;>Kristen Doyle is the creator of the award winning website, Dine &amp; Dish. Since early 2006, Kristen has been sharing her favorite recipes, photographs and life stories with an ever growing audience of engaged readers.</span></p> <p style=color: #212121; font-family: alexandriaflfregular, AppleGothic, Arial, sans-serif; font-size: 14px; line-height: 22px; margin: 0px; padding: 0px 0px 15px;><span style=color: #000000;>Kristen has expanded her reach to include working with major brands (<a style=color: #f5866c; text-decoration: none; href=http://dineanddish.net/?s=bushs beans target=_blank>Bush&rsquo;s Beans</a>,&nbsp;<a style=color: #f5866c; text-decoration: none; href=http://dineanddish.net/?s=Green Mountain Coffee target=_blank>Green Mountain Coffee</a>,&nbsp;<a style=color: #f5866c; text-decoration: none; href=http://dineanddish.net/?s=hallmark target=_blank>Hallmark</a>,<a style=color: #f5866c; text-decoration: none; href=http://dineanddish.net/?s=Zatarains target=_blank>Zatarain&rsquo;s</a>&hellip;just to name a few) as well as providing editorial content and direction for nationwide print publications and websites. Her freelance writing career spans working with magazines on a local and national level as well as creating valuable web content for a variety of sites across the web.</span></p> <p style=color: #212121; font-family: alexandriaflfregular, AppleGothic, Arial, sans-serif; font-size: 14px; line-height: 22px; margin: 0px; padding: 0px 0px 15px;><span style=color: #000000;>Kristen is a busy mom of 4 young kids, loves to entertain, has a passion for photography, and believes in keeping things simple. An avid reader, a kind of runner, a horrible gardener, and the wife of an outstanding man, Kristen&rsquo;s ultimate life goal is to connect and create meaningful relationships with others.</span></p> <p style=color: #212121; font-family: alexandriaflfregular, AppleGothic, Arial, sans-serif; font-size: 14px; line-height: 22px; margin: 0px; padding: 0px 0px 15px;><span style=color: #000000;>Kristen is available for editorial and photography projects, speaking engagements and ambassador partnerships with your brand. If you are local to Kansas City, give me a ring &amp; let&rsquo;s meet for coffee! I hope we get the chance to connect!</span></p>
View Full Profile