Pork Tenderloin - Thai-Style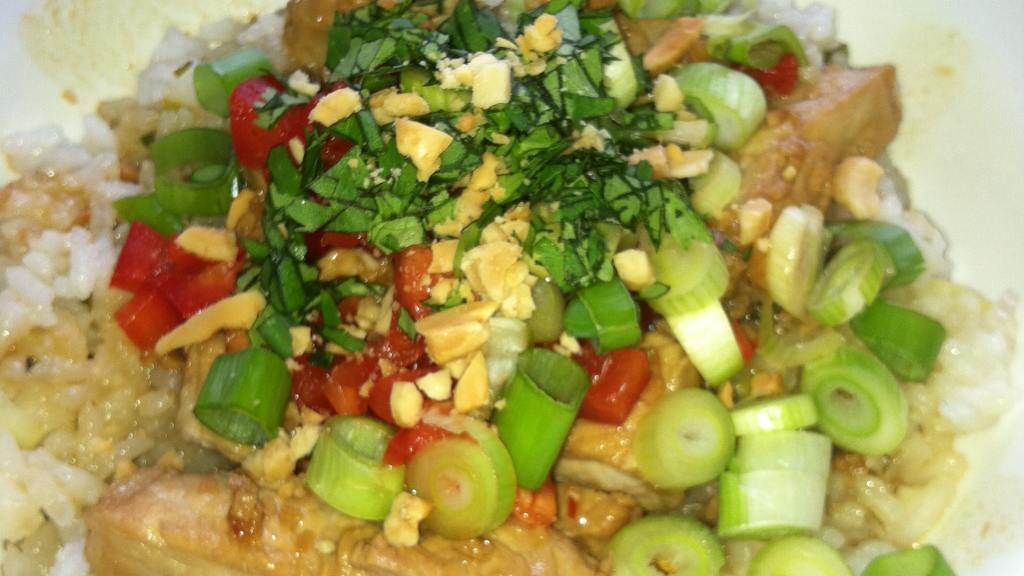 Ready In:

45mins

Ingredients:

18
directions
Cut tenderloin in half lengthwise.
In a ziplock bag, combine wine, soy sauce, pepper flakes, ginger, garlic, fish sauce, lime juice and brown sugar.
Place the pork tenderloin in the marinade.
Place in refrigerator for 1/2 hour, turning occasionally.
Remove meat from marinade, reserving marinade.
Heat oil in skillet.
Brown tenderloin pieces on all sides.
Cook until almost done.
Remove from skillet and place on cutting board.
Place marinade into the same skillet and bring to a simmer.
While simmering, cut tenderloin into 1 inch slices.
Return to skillet and cook until the meat is no longer pink.
If desired thicken sauce with a mixture of cornstarch and cold water.
Serve meat and sauce over steamed jasmine rice.
Garnish with red pepper, cilantro, green onions and lime wedges.
Sprinkle with peanuts.
Join The Conversation
Since we got out sous vide apparatus, it's been my favorite way to make pork tenderloin as it reliably produces a moist piece of meat. I marinated the meat as directed, wiped it off, put it in a sealable bag, and cooked it for an hour and a half at a temperature I've used before for pork tenderloin. I made it for the first time this week, and we loved the blend of flavors in the marinade and appreciated that it actually makes it to the table as a sauce instead of being discarded as so many are. Next time I'll try leaving the tenderloin whole instead of cutting it as suggested, and perhaps marinate it for a slightly longer period of time.

 

Now I have to say that I like this recipe...great balance of flavours...I think this is the fourth time I've made it this month. <br/>That being said though I do find it puzzling. <br/>Is that supposed to be 1 tenderloin at 3/4 of a pound?...using 1 and 3/4 of a pound for two people doesn't make any sense...that would be 12oz for each person. But then that seems to be an awful lot of liquid for only 3/4 of a pound.<br/>The first time I made it I took it as 1 and 3/4 lbs and the liquid ratio seemed to be perfect. Which fed my family of four quite nicely. <br/>I also find the cooking method unusual...so I just cut the tenderloin up like I would for any other stirfry...works just fine.<br/>And just as addition...I CANNOT keep fresh peanuts in my house for very long...they get devoured, BUT I always have peanut butter so at the very end I add about a soup spoon of peanut butter to the liquid...thickens it without adding cornstarch and using 'crunchy' substitutes for the chopped peanuts texture perfectly. <br/>Thanks overall though for a tasty recipe.

 

I was surprised how good this was! I omitted the cilantro and fish oil because I didn't have any and used instant brown rice. Also powdered ginger since I didn't have any fresh. I've tried using pork tenderloin in other oriental recipes and have always been disappointed. I will definitely make this again, thank you for posting!