Pink Puffs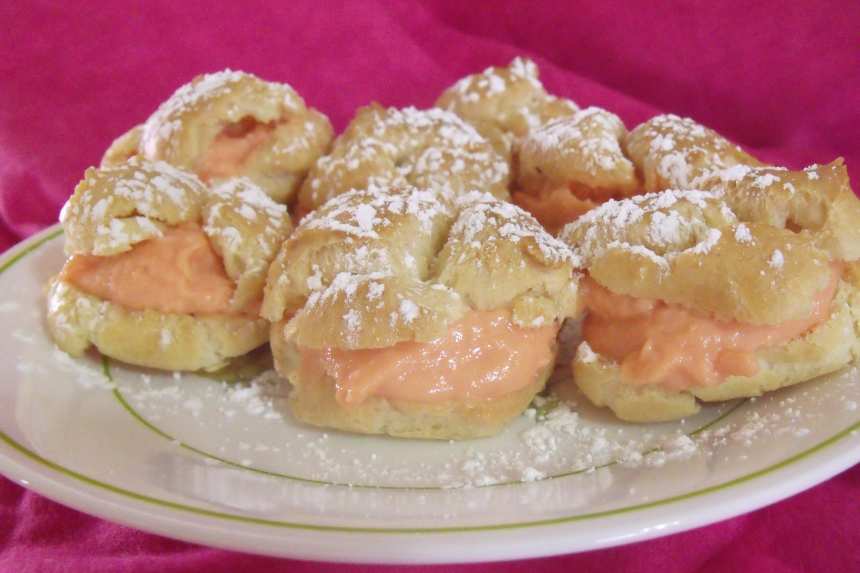 photo by Darkhunter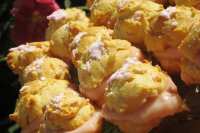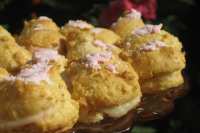 Ready In:

1hr

Ingredients:

10

Serves:

40
directions
Preheat the oven to 400°F Lightly grease (or line with parchment) two baking sheets.
Combine the water, butter, and salt in a medium-sized saucepan, heat until the butter has melted, and bring to a rolling boil.
Add the flour all at once, stirring vigorously until the mixture smoothes out and follows the spoon around the pan; this should take less than 30 seconds.
Remove the pan from the heat, and let the mixture cool for 5 to 10 minutes. It'll still feel hot, but you should be able to hold a finger in it for a few seconds.
Transfer the dough to a mixer, and beat in the eggs one at a time; the mixture will look curdled at first, but when you add the last egg it should become smooth. Beat for 1 minute after adding the last egg. You'll have a stiff, smooth batter.
Drop the dough by teaspoonfuls (about the size of a chestnut) onto the prepared sheets (a teaspoon cookie scoop works well here). Leave about 1 ½" to 2" between them; they're going to expand to about the size of a golf ball.
Bake the puffs for about 20 minutes, till they've puffed, they're a medium golden-brown, and they look dry.
Remove baked puffs from the oven, and use a sharp knife to cut a slit into the side of each puff, for steam to escape; this will help prevent them from becoming soggy. Return the puffs to the oven for 5 minutes, then remove from the oven, and transfer to a rack to cool.
To fill puffs: Combine all of the filling ingredients, stirring till it's begun to thicken. Refrigerate until set, about 1 hour. Pudding can be made ahead; puffs are best filled just before serving.
Gently open each puff along a natural "fault line;" you'll see where they want to split. Fill bottom half of each puff with 2 measured teaspoons of filling, and replace with top half. Too fill puffs fuller, see tip at right.
Sift confectioners' sugar atop puffs just before serving. For pink sugar, combine sugar with red food coloring in a blender or food processor (a mini processor works well here). Rub the pink sugar through a sieve onto the puffs.
Questions & Replies

Got a question?
Share it with the community!
Reviews
These were marvelous! So cute and dainty as they are way smaller than regular cream puffs. DH kept grabbing some of these lil pink treasures even before I took a picture of it. As soon as I was done, he got the whole batch of these and brought it with him leaving me with just a few. The puff's texture is similar to the soft breakfast biscuits and taste is similar to the bigger cream puffs we buy in the bakeshops. For the filling, I used 5% milk and 1 box vanilla instant pudding mix. It settled quickly after I mixed it and it's thick, creamy and mmmm delicious! I like it coz it's not too sweet as what we'd ordinarily buy outside. Since I was making these for Oct's Pink Tag Game, I couldn't help myself and made half of the cream filling into pink too! I added a few drops of red coloring for these :D Then I topped it with your recommended colored topping. These would look good for parties too. Much enjoyed! Thank you very much for posting this!